"The best things in life are not things"
-Art Buchwald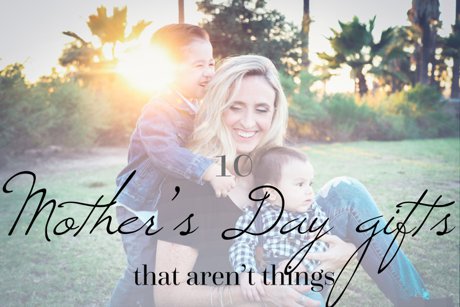 Whether you're shopping for your own mother or the mother of your children, skip the flowers this year and instead give a gift of quality time making memories together!
1. Say Thank You
It sounds cliche, but only when you're a mother yourself will you understand your own mother's love and sacrifices. Of course, you love and appreciate her every day of the year, but make sure Mother's Day is a day when you stop, look her in the face, and tell her "Thank you!"
2. Pamper Her
Sure, this varies by the season of motherhood, but most of the mothers I know can hardly slow down long enough to drink enough water, let alone indulge in any real self-care. Give her a massage, a pedicure or a whole day at the spa if you can to allow her to really unwind and feel pampered.
3. Feed Her
Take her out to dinner, or if she really loves to cook, get tickets to a class at the Cooking Studio Fort Collins where you'll experience a hands-on tutorial on how to prepare a new dish followed by a delicious dinner. If you'd rather avoid the mother's day crowds you could pick up her favorite takeout as long as, and this is the key ingredient, she doesn't clean up after the meal.
4. Give Her the Night Off
When was the last time she went out for a girl's night? Husbands, if you have little ones in the house, there's a good chance that she can't remember either. Make the plans and be there to give the baths, read the books, and pajama the kids so she can have a night to regroup and unwind with her friends.
5. Support a Cause
Is there a special cause that is close to her heart? Consider reallocating the money you would have spent on flowers to a donation in her honor. Or, even better, make arrangements to spend the day volunteering together.
6. Learn a New Skill
Would she prefer a yoga class or a paint and sip class at Pinot's Palette? Practicing a new skill that requires creativity can be a wonderfully enriching experience, and spending time doing this with a loved one can make great, lasting memories.
7. Reserve Your Seats
Whether it's the ballet, a sporting event, concert or even just a movie that she's been dying to see, Mother's Day is the day that she gets to pick. Think of all the piano recitals and soccer games she's attended for you, and this time, sit your butt in the seat next to her and have fun watching a performance of her choosing.
8. Lend a Hand
Is she drowning in projects? Ticking off a project on her to-do list not only lightens the load, but it also frees up time for her to do something more enjoyable instead. If this happens to come in the form of a cleaning service or a professional organizer, she won't complain about that either!
9. Sign Her Up
What does she love that she doesn't do often enough? Consider buying a membership to a favorite destination to take the kids, like the Fort Collins Museum of Discovery.
10. Take Her on an Adventure
Whether she would prefer to hike Devil's Backbone or take a picnic to one of Northern Colorado's many natural areas, spend Mother's Day together appreciating Colorado's beautiful scenery and soaking up sunshine.
SaveSave
SaveSaveSaveSave