Our latest home improvement project.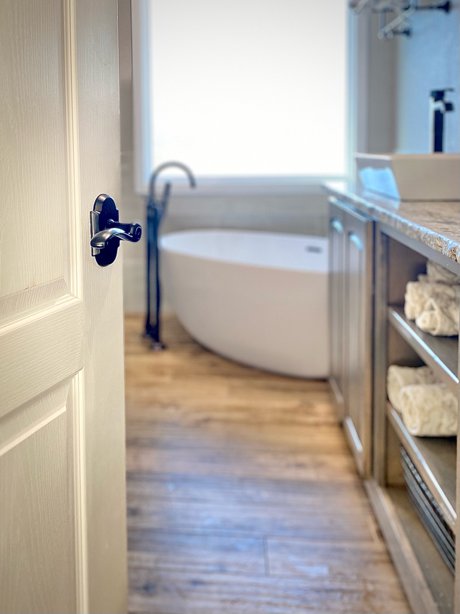 When we decided to upgrade our door hardware, I was looking for pieces that made a stronger statement than a simple lever or handle to dress up the doors throughout our home. These Austin Levers from Kwikset fit the bill perfectly. Their solid construction, large designer faceplate and brushed Venetian Bronze finish add a feeling of luxury and style to our house and I'm very excited about the finished results!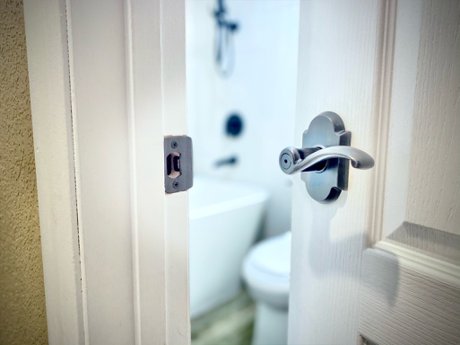 Knowing that door handles are one of the most touched items in your homes and being so much more aware of germs in the era of Covid than we have been in the past, I was also looking for a handle that would be easy to disinfect and would hold up to frequent cleanings. The fact that Kwikset has made these levers with antimicrobial properties to actually fight bacteria growth on the surface is genius! The technology is called Microban and is defined as "a powerful added layer of antimicrobial protection that's built-in right into the finish of select Kwikset products. The active ingredient actually enables hardware to inhibit the growth of bacteria keeping door hardware cleaner, fresher and more protected than products with untreated surfaces."
I love that.
I'm impressed by the quality of the kwikset products. It was amazing to feel the difference in weight between these new levers and the old handles I was removing. The Kwikset levers are heavy! I also really appreciate that they have a lifetime warranty, not only on the mechanical operation of the levers, but also the finish. Dark finishes sometimes scratch and show wear faster than other metal finishes, so I'm pleased that this won't be an issue and that Kwikset stands behind their products both functionally and cosmetically.
Because Kwikset's Venetian Bronze is one of the darkest finishes, almost black, I decided to pair the leversets with black hinges and doorstops from National Hardware, rather than taking a chance on mismatched bronzes. I am pleased with the results and actually think that the two finishes play perfectly with one another.
A minor challenge I ran into with this project was with the paint on our doors and trim. Having been painted somewhat recently, a number of the old hinges and strike plates were actually glued in place by the paint and chipped off some of the surrounding paint when removed. Some also had paint pooled in the cutout, so that I had to do some chiseling and sanding in order for the new hinges to fit properly. I still have some ongoing paint touch ups to do around a few of the hinges. I am told that this is the kind of thing that "only Joanna would notice" but I can't help it, so I will be working on that in the days (weeks) to come.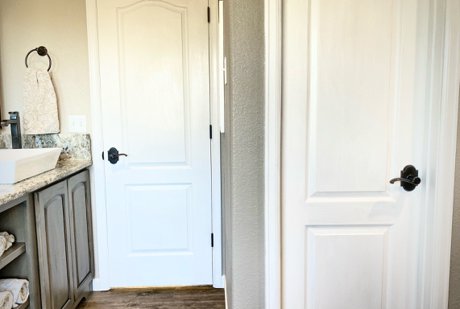 Luckily I live right down the street from Ace Hardware in Windsor, so unexpected turns don't upend the whole project. I've mentioned how much I love the Benjamin Moore paint they carry, which I am using as we speak for all of those little touch ups. They also carry everything else you need for this project including Kwikset and National Hardware products. I'll share a shopping list of everything you need below.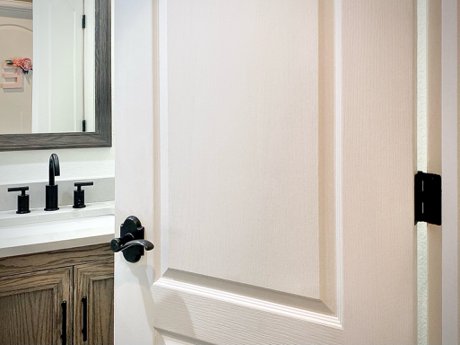 If you're looking for an easy way to update and add style to your home by upgrading your door hardware, here's your checklist with links: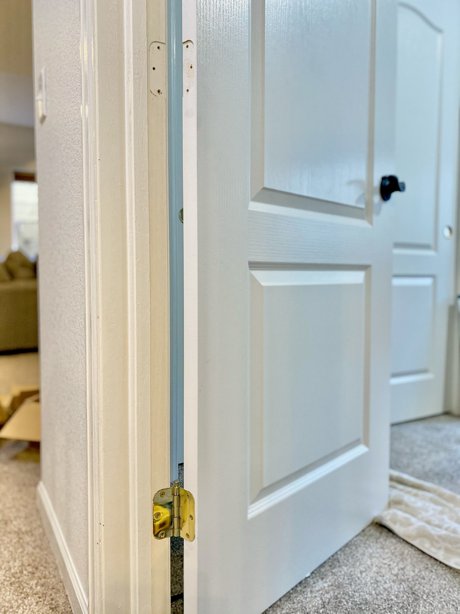 I also recommend grabbing a towel before you get started. I found it helpful to stuff a towel under the door before removing the first hinge to avoid overstressing the remaining hinges. I didn't want the door to shift and possibly rip out the screws, so this was a helpful trick. Once I had that in place to support the door, I replaced one hinge at a time, installing the new one before moving on to the next one so there were no heavy doors to remove and put back on hinges. I did find that with solid wood doors, it was helpful to get some longer screws to ensure the door was well supported. If this applies to you, I'd suggest taking one of the screws that comes in the hinge packet with you to Ace to find one that is identical but with extra length. I ended up using 5 inch screws which may have been overkill, but I was having fun with my new drill!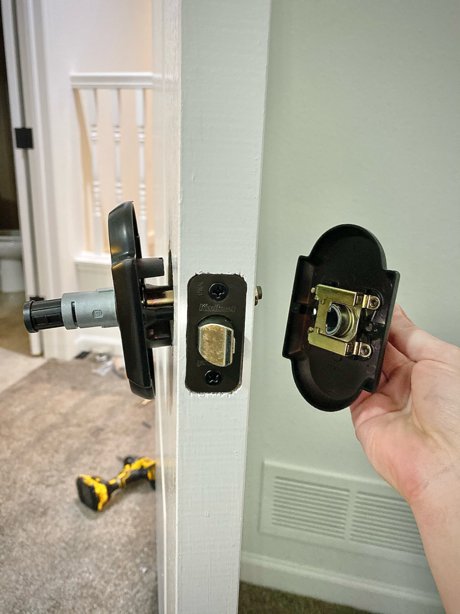 The Kwikset Levers really are "Kwik" and easy to install. They come with all of the hardware needed and arrive coupled together so you can easily see how they fit together through the bore hole.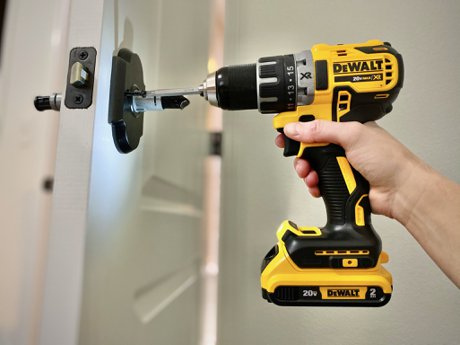 Just slide in the striker, then line up the baseplates on either side of the door like a puzzle and fit them together snugly. Then, secure them in place with the provided screws.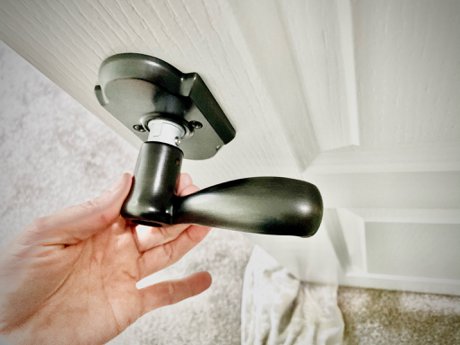 Once the faceplates are secured, the levers slide on easily and are secured in place with the provided tool.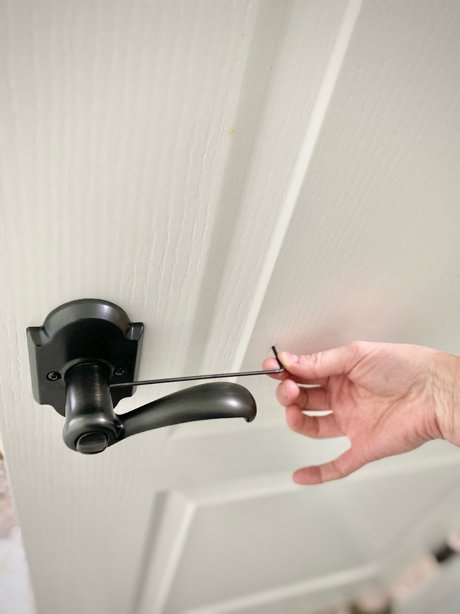 That's it! You will have some dust and possibly some wood chips to vacuum up and touch up paint to do, but otherwise it's a pretty easy process!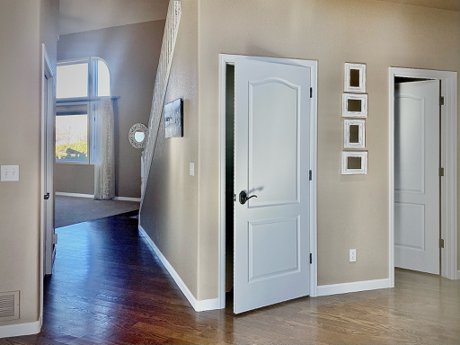 If you're like me, now that you've spent this time up close and personal with your trim and doors, you probably noticed a hundred imperfections and will now be obsessively sanding and repainting for the next 5 weekends. Hopefully that's not the case, and you're able to step back and enjoy your beautiful upgraded home hardware!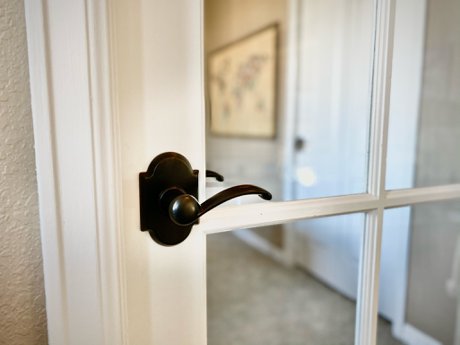 Even if your home isn't perfect, door hardware is a great opportunity to add personality and make an impact with your design. Quality leversets also add value to potential buyers of your home, so they are a great home improvement to invest in whether you are planning to stay where you are or sell your home in the near future.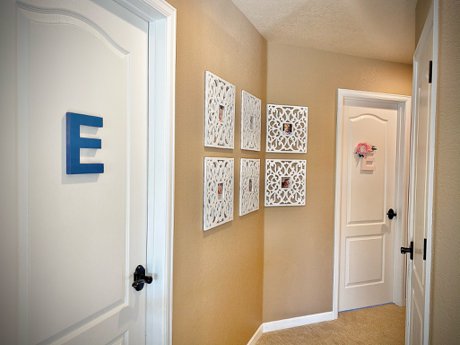 Thank you for reading my blog and following along on my Instagram account. It has been fun sharing our home improvement projects as we update our Fort Collins home!