Between running our small business and becoming a family of four, the past two years since we bought our new house in Fort Collins have been hectic, and we haven't been able to spend much time making it feel like home. Finally, putting a paint brush to the orange trim and banishing that dark chocolate colored accent wall that made our master bedroom feel dark and dated has really changed my attitude toward this house. Like losing the weight I gained over the winter, when it comes to redecorating a home, getting started is sometimes the hardest part. Checking this master bedroom off the list might just be the positive momentum I need to transform this place from a house that we live in to a home that we love.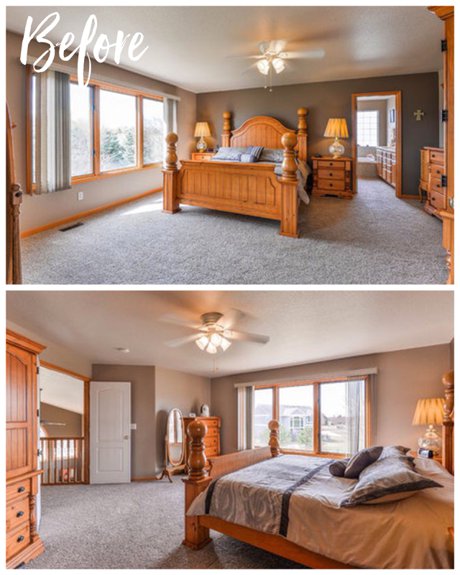 Although our previous home in Timnath Ranch was too small for us (which is why we moved), it was so pretty. Every finish in that house was clean and white and airy and new. And since we had bought it before we became parents, I had invested hours decorating and personalizing the house. Starting over again with two little ones was slow going, but I can see it now! I can see this house becoming a place that is our own and represents our style, and I feel motivated to bring this feeling to every room in the house!
Have you typed "master bedroom update" into Pinterest? While there are thousands of beautiful, inspiring ideas on Pinterest, there's no better place to go, in my opinion, if you want to feel broke and inadequate. I'm going to come out right now and say that Pinterest perfect is not what I was aiming for here. What I wanted in this master bedroom was a place that felt like a retreat where I can occasionally hide to relax, reading a book and/or drink coffee in bed while surrounded by decor that reflects my personality.
Okay, and if I'm really shooting for the stars here, I'd also love for it to be a place where there are no legos scattered across the floor for me to step on in the middle of the night when I'm half asleep and someone's calling "Mama."
Oh, and one last disclaimer before I dive in: my budget on this makeover was not a million dollars. We did all of the work ourselves on this project. I even had ideas that I couldn't make happen this time around (still dreaming of you, sliding barn door). I think it's important for me to say this because often the pictures we see on the internet look flawless, but what you don't see is that this is the only room in my house that is presentable right now, and I had to position the throw blanket just so on the bed for these pictures to cover up my son's sharpie artwork on my brand new duvet. Listen, I am not perfect and neither is my house, but it doesn't have to be perfect for us to make beautiful memories here.
One of the first things we did when we moved into our home that made an immediate difference was to exchange all brass and dated hardware for new hardware with an oil rubbed bronze finish throughout the house. The new fan and lever style door handles that we purchased at our local hardware store were a pretty quick and inexpensive way to make a big impact on the space, even before we were able to tackle the rest of this project.
Step two was paint. Saying goodbye to the golden oak trim was actually a hard decision for me, and I went back and forth for a year on whether I would embrace the wood trim as part of the rustic character of the house, or banish it in favor of a crisp white coat of paint. While the particular finish of the trim was too orange for my taste, and I do generally prefer a more modern look, I am also someone who appreciates the beauty and craftsmanship of real wood. Nor am I someone who shies away from a somewhat eclectic look in interior design, so for a long while I was convinced I could make it work even while going for a more updated aesthetic overall.
Alas, we ended up needing new windows due to hail damage. At some point in the decision process we decided that white was the way to go, and that expedited the decision to paint the trim to match. How much a coat of paint can update and brighten up a space is pretty remarkable, and what turned out to be a somewhat inexpensive diy job that I was able to complete in under a week was really the biggest part of this transformation.
I also painted over the dark accent wall, which both brightened up the space and allowed us more freedom in how we laid out the room. With the accent wall, the room seemed to afford only one logical place for the bed to sit- up against that wall. While I have no problem with accent walls, the brown of the one I inherited was too dark for my taste, and in a master bedroom of this size, with somewhat of an odd shape, it was placing too many limitations on furniture placement.
The third and final step was to choose the furniture and decor that fit the space and my dream of a bright, farmhouse inspired master bedroom. While I shopped a variety of stores, some of which were small and local and others that were not so, the items that I am highlighting in this post are those that are the statement pieces in this room in my opinion. At the bottom of the post, you will find a shopping guide where you can purchase these items for your own home. You'll likely notice that I believe strongly in supporting small businesses, and you will always find my shopping guides to be heavily populated by handmade products from local artisans and etsy shops.
When I was originally thinking of inspiration for my decor in this room, I kept going back to Bindle Coffee in my head. Truthfully, if they would let me just plop my bed down in the middle of their coffee shop I would be down, but since that might make their other customers uncomfortable, I had to find a way to bring home the things that make Bindle such a heavenly oasis. Aside from fantastic coffee and the warm coffee-house smells, the thing I love about Bindle is the rustic, farmhouse inspired atmosphere.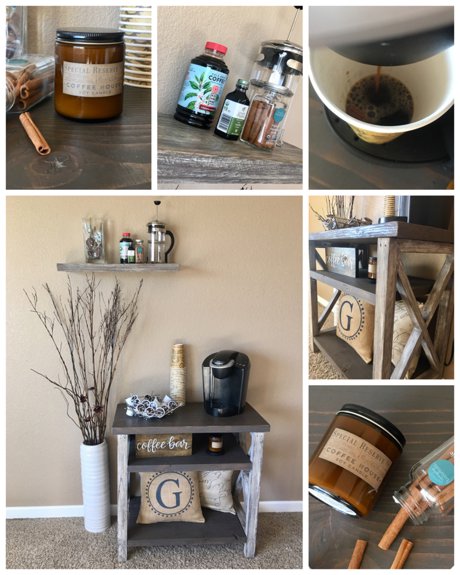 I knew from the day that we bought this place, that if I was expected to sleep on a different level than the kitchen, I would need a coffee bar in my bedroom. So, after looking at several different configurations for a coffee bar, I fell in love with this rustic coffee bar table from Easton West Designs which is handmade from solid wood and then shipped disassembled, making it much less expensive than other furniture of similar quality. This is solid and heavy. Both the coffee bar and matching floating shelf are finished in a distressed grey which accentuate the grain and knots in the wood for a beautiful, farmhouse inspired feel. The pictures of this coffee bar do not do it justice! When I was shopping around one of my favorite features of this table was the shallow shelf, which would have held coffee mugs had I not been reminded in process of staging the room that I live in a word populated by small humans who think it's hilarious to throw breakable items down the stairs. So, for now I am using disposable cups and being protective of some of my other favorite items, like the most fantastic smelling candle ever. I swear this Coffee House scent from Special Reserve candles bottled Bindle up in this little jar.
Hanging a one hundred year old window frame over a new tufted fabric headboard might not have been the most obvious choice, but I love the depth and character this piece brings to the room. Okay, love isn't a strong enough word. I'm obsessed with it. While my style might not be the most eclectic you'll find, a space that lacks a few found pieces feels too sterile for my taste, and adding in this blue chippy paint window frame gives the room a feeling of being connected to history that would have been missing otherwise. While I had considered using it has a picture frame, in the end I absolutely love it paired simply with a lavender and burlap wreath.
Burlap ties the room together. Not only did the shade of beige pair perfectly with the wall color and headboard, but the burlap pillows and wreath are reminiscent of rustic, old coffee sacks that made them feel fated for this bedroom redesign. I love that the burlap pillow is actually hand painted with the monogram and that the grey matches the finish on my coffee bar so perfectly.
To the left of the bed, the sign reads "this morning with her having coffee" which is a quote from Johnny Cash's description of paradise. I fell in love with this sign for it's rustic, handmade charm and the sweetness of this sentiment, which fit in perfectly in my farmhouse inspired master bedroom retreat. The fact that it was custom made in Colorado is icing on the cake.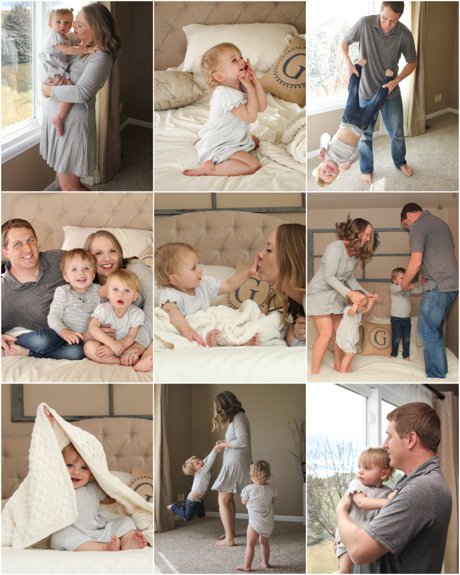 As much as I sometimes miss that feeling of getting away and quiet mornings spent sipping coffee without a hundred looming demands, I know how lucky I am for who I get to spend life with. These days when we get a free moment it may be spent jumping on the bed, having a pillow fight or playing peek a boo. The number of people who sleep in this bed may fluctuate from one to all four of us depending on the night. No, we are not Pinterest perfect, but that was never the goal, remember?
{The best way to follow the blog is to like us on Facebook. Click here so you never miss a post!}

Rustic Farmhouse Floating Shelves
Antique Four Pane Farmhouse Window
Coffee Bar Scented Soy Wax Candle
This morning with her having coffee Sign
*Made in Colorado*
Use code "BLOGGER 10 to receive 10% off