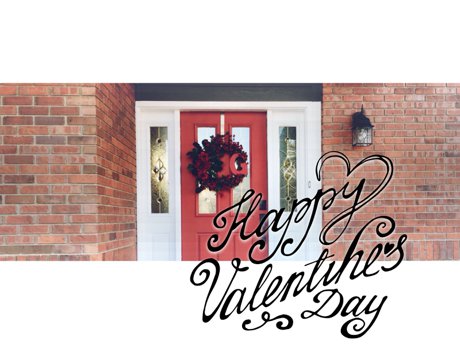 I decided that an indoor brunch picnic was the perfect way to celebrate Valentine's Day with the kids this year. Yes, I did decide this before realizing the impact it would have on my living room carpet. Nevertheless, it was fun and festive and I would do it again!
My two little loves thought it was hilarious that we were eating on the floor and decided that we should run around in circles while holding hands to work up an appetite while we waited for our friends to arrive. I always feel so proud of myself when I can capture the moments in which they like each other on camera!
"Yay! Our Guests are here! Let's run outside in freezing temperatures without coats or shoes on to greet them!" -The Gyrath Kids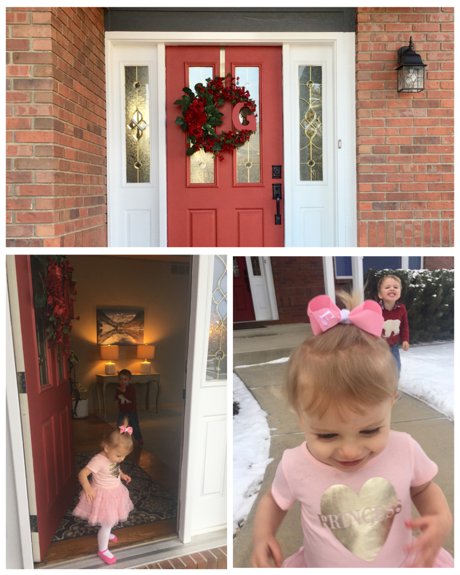 Whether you're hosting a casual brunch with mimosas or just looking for some delicious, new recipes to try, I can't recommend this book highly enough! Congratulations to Colorado author and culinary instructor, Vera Dawson on the release of her second book on high altitude baking, Baking Above It All. I owe a huge thanks to her for allowing me to share these beautiful brunch recipes from her new book. There are so many exquisite dessert, breakfast and any-time recipes that I struggled to narrow the menu down to these three recipes.
Our Brunch Menu:
Blueberry-Lemon Corn Muffins
Apple Pandowdy
Strawberry Bread
The fact that I could incorporate heart shapes was only partially responsible for the addition of Blueberry-Lemon Corn Muffins and Apple Pandowdy to the menu. My multi-sized heart cookie cutters came in handy making both of these recipes. The lovely pink hue of the Strawberry Bread seemed so festive it had to be included too!
Vera is giving away two of her lovely baking books! Click here to enter the Giveaway.
Blueberry-Lemon Corn Muffins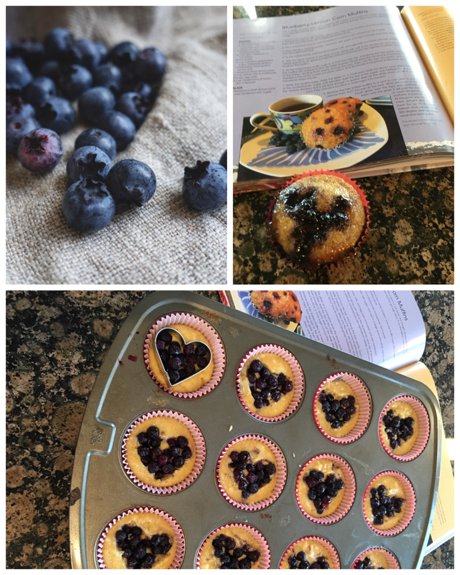 Adjusted for altitudes of 8,000 feet and above
The capacity of standard muffin cups vary,
so the yield will range from 6-8 muffins
Make in a standard muffin pan
4 (four) tablespoons unsalted butter
3/4 (three fourths) cup plus 1 (one) tablespoon all-purpose flour
½ (one half) teaspoon plus 1/8 (one eighth) teaspoon baking powder
½ (one half) cup plus 1 (one) tablespoon cornmeal
A pinch salt
½ (one half) cup superfine granulated sugar, preferably Baker's
1 (one) tablespoon fresh grated lemon zest
1 (one) teaspoon fresh lemon juice
½ (one half) cup whole milk or buttermilk
2 (two) large egg yolks
½ (one half) cup blueberries (if frozen don't defrost)
Glaze
2 (two) teaspoons fresh lemon juice
¼ (one fourth) cup confectioners' sugar
Preheat the oven to 375 degrees with a rack in the center position. Line the muffin pan's cups with paper liners and spray the liners with a vegetable oil-flour spray.
Use a microwave oven to melt the butter in a mixing bowl. Set it aside.
Place the flour, baking powder, cornmeal, salt, sugar and zest in a large bowl and whisk vigorously until thoroughly blended. To the melted butter, add the lemon juice, milk, and egg yolks and whisk until well combined.
Add the liquid mixture to the flour mixture along with half of the blueberries and, using a silicone or rubber spatula, stir gently but quickly until just combined (no dry ingredients visible). Overmixing will toughen the muffins.
Fill the paper-lined muffin cups to ½ inch from the top, smoothing the tops gently. Don't overfill or the muffins will collapse and/or be oddly shaped. Gently press the remaining blueberries into the top of the batter, dividing them evenly among the cups. Bake until the tops are golden and a toothpick inserted in the center comes out clean, about 15-20 minutes if using fresh blueberries, about 20-27 minutes for frozen berries.
While the muffins bake, make the glaze: In a small bowl whisk the lemon juice and 1 tablespoon of the confectioners' sugar until blended. Add the rest of the sugar, one tablespoon at a time, until the mixture thickens but is still fluid enough to quickly slide off the whisk when you lift it. Add more juice if the mixture is too thick or more sugar if it's too thin.
Remove the fully-baked muffins to a rack to cool. After 5-8 minutes remove them from the pan to the rack. While still warm to the touch, brush glaze over the tops and continue cooling them until the glaze is set and the muffins are at room temperature (the bottoms should be cool). At this point, you can wrap them airtight and freeze them for up to 3 weeks. Defrost and reheat in a 325 degree oven or microwave and serve warm.
Apple Pandowdy
Adjusted for altitude
Make in an 8X8 baking dish or an 8 inch round ceramic or glass baker
with sides that are at least 2 inches high
Ingredients
Your favorite crust for a single-crust pie
Filling
¼ (one fourth) cup of brown sugar
2 (two) tablespoons of cornstarch
¼ (one fourth) teaspoon of cinnamon
¼ (one fourth) teaspoon of salt
¼ (one fourth) teaspoon of nutmeg
¼ (one fourth) cup of maple syrup, preferably Grade B or Deep Amber
3 (three) tablespoons of apricot preserves
6 (six) medium baking apples
2 (two) tablespoons of butter, preferably unsalted
1 (one) tablespoon of cream or milk
2 (two) tablespoons of granulated sugar
Step One: Make the crust and refrigerate it.
Step Two: Preheat the oven to 400 degrees, with a rack in the lower third position. Grease or butter the baking pan and set it aside.
Step Three: Make the filling: In a large bowl, place the brown sugar, cornstarch, cinnamon, salt, and nutmeg and whisk to combine well. Add the maple syrup and apricot preserves and whisk/stir until all the ingredients are blended and smooth. Peel, core, and cut the apples into quarter-inch slices. Half the slices horizontally, put them in the bowl, and toss until all are well coated. Set this aside.
Step Four: Remove the dough from the refrigerator and let it stand until it is soft enough to work with, and then roll it to a thickness of one-eighth of an inch (no thinner or the cut-outs won't hold their shape). Using a cookie cutter (or several cutters), cut out as many cookies from the dough as possible. If the dough softens, slide the cut-outs onto a baking sheet and freeze until firm enough to handle with ease. Pour the apples, and any remaining liquid in their bowl, into the prepared baking pan and level them. Dot the apple mixture with the two tablespoons of butter, cut into small pieces. Place the dough cookies on top of the filling, overlapping them, and pushing those that touch the side of the pan into it, so they adhere. Leave some small spaces between the overlapped cookies to vent steam from the filling as it bakes. If you don't have enough cookies to cover the top, re-roll the dough and make some more.
Step Five: Brush the crust lightly with the cream or milk and sprinkle it with granulated sugar. Place the baking pan on a cookie sheet (to catch any drips) and bake until the crust is golden brown (this takes about 25 minutes in my oven). Reduce the oven temperature to 350, tent the baking dish with a sheet of aluminum foil to prevent the crust from browning further, and bake until the apples are tender (check by sticking a toothpick or skewer through the vent holes into the fruit) and the liquid is bubbling thickly. This can take from 30-45 minutes. Remove the pandowdy from the oven and let it cool for at least twenty minutes before serving. Though best served on the day it's made, it can cool completely, be stored in the refrigerator, covered loosely with foil, and reheated in a 325 degree oven until warm to the touch. Serve with cinnamon or vanilla ice cream.

Strawberry Bread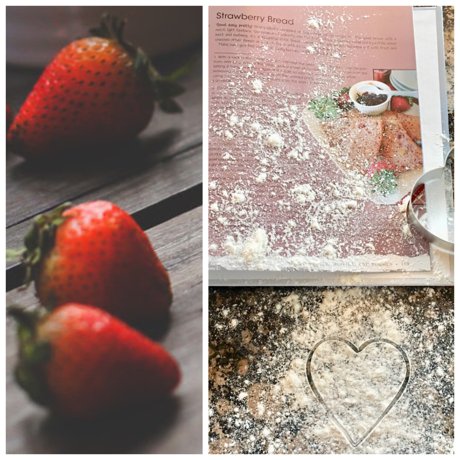 Adjusted for altitudes between 8,000 and 10,000 feet
Make in a 3X6 ½ inch metal loaf pan
(Measure bottom of pan)
Ingredients
¾ (three fourths) cup plus 1 (one) tablespoon of bleached flour (spoon and level)
½ (one half) cup of superfine granulated sugar
1/8 (one eighth) teaspoon of baking soda
1/8 (one eighth) teaspoon of salt
1/8 (one eighth) teaspoon of nutmeg
¼ (one fourth) cup of chopped walnuts
5 (five) ounces of strawberries (about a generous half cup)
1 (one) large egg
¼ (one fourth) cup of Canola oil
1 ½ (one and a half) teaspoons of fresh lemon zest
Step One: With a rack in the center position, preheat the oven to 350 degrees (the oven should be at temperature for at least ten minutes before baking the bread). Line the pan, from one long side to the other, with a sheet of aluminum foil, letting it hang over the edges of the pan so you can use it as handles when removing the baked bread. Spray the pan, foil and all, with a flour-vegetable oil non-stick spray. Set the pan aside.
Step Two: Combine the flour, granulated sugar, baking soda, salt, and nutmeg in a mixing bowl and whisk to mix them well. Stir in the chopped nuts, distributing them throughout the dry ingredients. Set this aside.
Step Three: Slice the strawberries into pieces about half-an-inch in size, place them in a bowl, and mash them lightly (I use a potato masher to do this; a large fork also works well) until there are small lumps of berry visible throughout a thick, chunky sauce. In another bowl, whisk the egg, canola oil, and lemon zest until well mixed. Add the berries and stir to combine. Pour this over the dry ingredients, scraping the bowl well (make sure to use all of the moist mixture) and, using a gentle hand, stir/fold only until they are blended, the dry ingredients are uniformly moistened, and the batter is smooth. Scrape the batter into the prepared pan; it should be about two-thirds full. Don't overfill the pan, even if you have a little batter left over. Bake until a toothpick inserted in the center comes out clean. This takes from 40-45 minutes in my oven. The bread will have a fairly flat top, often with a crack in the center.
Step Four: Remove the baked bread to a rack and let it rest for about fifteen minutes. Then, using the foil handles, carefully lift it out of the pan, and place it directly on the rack (not on the foil) to continue cooling. As soon as it's cooled (don't let it sit out in our dry air any longer than needed), wrap it airtight, and refrigerate it until it's chilled, preferably overnight. While this isn't absolutely necessary, doing so will make it much easier to slice and will give the flavor time to develop. Once cut, let the bread come to room temperature before serving. It's moist enough to nibble unadorned, but we also like it with strawberry jam or cream cheese flavored with a little lemon zest.

To order your copy of 'Baking above it all' by Vera Dawnson, contact the Next Page Books in Frisco, or pick one up the next time you're headed up to the mountains of Summit County to ski.
Support small businesses by purchasing these products featured in this post:
by Teaberry Lane Designs

Burlap Valentine's Hearts Placemats
by Lotsa Bitsa Love
Personalized 9"x13" Pyrex Baking Dish with lid
by Laser Scribe It
Nesting Hearts Cookie Cutter Set
by Kreative Baking Shop