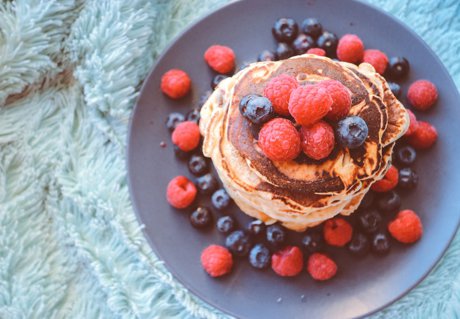 I have to confess that I am no longer someone who makes things from scratch. Once upon a time? Sure. But right now, while I have two little ones, a small business, and a house that is littered with toys and laundry? Not a chance. Not even on Valentine's Day.
These 10 recipes are the best kind of recipes in my book, because all it takes is throwing a few extra ingredients in with your favorite pancake mix to make a decadent, Valentine's Day (or any day) breakfast.
Serve with bacon and mimosas for a balanced meal.
Berries
Whether you mix the berries into the batter or pile them atop your short stack, berries and pancakes are about as classic a combo as they come. Don't just stick with blueberries! Triple berry combinations are delicious- just make sure to chop any large berries so the juices don't overcome the batter.
White Chocolate Raspberry
For a dessert-like spin on berry pancakes, try mixing white chocolate chips and raspberries into the batter. Serve with syrup, whipped cream, or just a sprinkle of powdered sugar.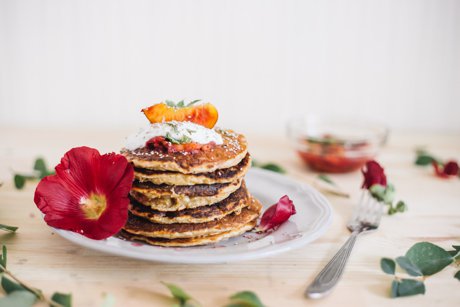 Peaches and Cream
Dice peaches and dry with a paper towel before adding to batter. This works well with thawed or canned peaches since they are out of season, and is complemented with a dash of vanilla if you'd like. Serve with whipped cream and more chopped peaches.
Chocolate Chip Peanut Butter
We are huge fans of peanut butter in our house, so I tend to add a couple of heaping tablespoons. Mix chocolate chips into the batter and make sure they are well-coated so you don't get sticky, burned chocolate on your pan. We prefer dark chocolate chips.
Banana Walnut Raisin
Mix a mashed, over-ripe banana into the batter, along with chopped walnuts and raisins. I also add a splash of vanilla extract, and tend to reduce the amount of milk or water slightly from what is called for on the box of pancake mix since the banana can make the batter a tad more runny.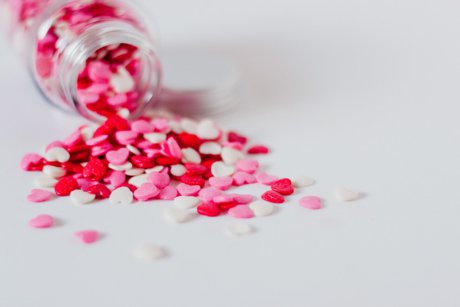 Sprinkles
You know it's a special day in the Gyrath household if we are making pancakes. For a long time my son always confused pancakes with cupcakes, so when we made pancakes for breakfast we had to sing happy birthday and pretend to blow out the imaginary candles on top. Mix sprinkles into the batter for a fun-fetti effect, then top with whipped cream and more sprinkles to delight your littlest Valentines.
Cinnamon Raisin
Add cinnamon and raisins directly into the batter, or mix with only half and swirl the batters together on the pan. As you cook the pancakes the raisins will get hot and bubbly. You could also try this with dried cranberries or other dried fruit.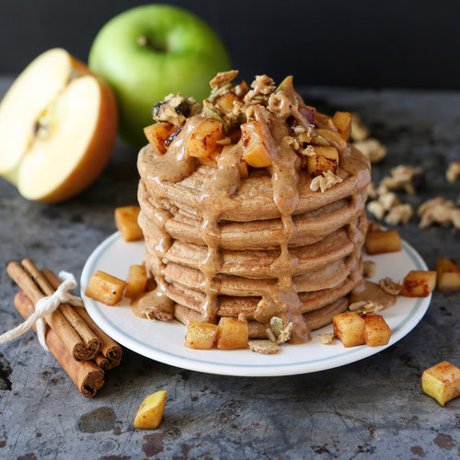 Apple Pie
Most recipes tell you to stick with granny smith apples for any kind of baking, but I typically use Honey Crisp since that's the variety we usually have on hand. Dice apples and toss in apple pie spice before mixing in with the batter. For a really scrumptious breakfast, serve with a drizzle of caramel sauce instead of traditional syrup.
Chocolate Covered Strawberry
Add diced fresh strawberries, vanilla and chocolate chips to the batter for a breakfast reminiscent of chocolate dipped strawberries. Top with whipped cream or a drizzle of chocolate syrup.
Maple Bacon
Simply add chopped, cooked bacon to your pancake mix and serve with maple syrup. I sometimes reduce the amount of other liquids and mix in a little bit of maple syrup into the batter as well. The only hard part is deciding whether or not to also add a side of bacon.
Enjoy!