It's actually happening.
Our master bathroom remodel is officially underway and, even though it's just at the beginning stages, we're ready for it to be finished! That's how it always is, I guess, and the demo stage is the worst part- dust, debris, noise, and the ensuing upheaval of our preschoolers' schedules. We certainly don't take on these projects because we enjoy the process, but rather because the end result is worth the chaos!
Oh, how it will be worth it....
Although we have a pretty small bathroom to work with, we really wanted to expand the shower from the previous design without giving up a tub. Often in homes this age with similarly small master bathrooms, I'll see renovations done where they eliminate the bathtub and go all-in on the shower which I don't like for resale or function. I may not have the time to soak in a tub every day, but when I do it's an experience that I look forward to! Further, as a Realtor, I've worked with many home buyers who wouldn't buy a house without a tub in the master bath, so aside from my own personal preferences, a five piece master bathroom is a must. I've always wanted a freestanding tub, but most often these are designed to be the centerpiece of a bathroom and can be quite massive. We just don't have space for that! I was excited to find that the Alamo from Hydro Systems which is plenty large enough for a good soak, but at under 5 feet in total length, is quite space conscious for a freestanding tub. With the confined space we have to work with and its position directly in the line of sight from the door, this tub will still be a statement piece!
I love the look of a classic white bathtub. There are some lovely options out there for really rustic bathtub designs in a variety of colors, and Hydro Systems offers some really nice grey ones that look like they're made of cement or chiseled from stone. Don't get me wrong, they are beautiful, but it's easy to end up with too many dark finishes when designing a rustic space. In a tiny master bath like ours, it would feel like a cave! A classic white tub will brighten the space and add contrast against the darker shades of the wood-look floor tile, rustic grey wall tile, and pebble stone shower floor which I was so excited to find at Sutherlands in Fort Collins after having spent countless hours perusing tile stores.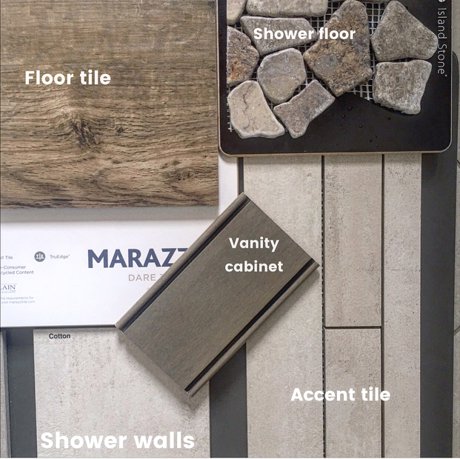 Can you picture this vanity design from Tharp Cabinets in that lovely rustic truffle stain with heavy distressed finish? It's hard to do from a sketch, and I'm pretty sure my husband has no idea what we're getting, but trust me, it's going to be beautiful! I had an idea of what I wanted for the overall look going into the planning and design phase of the remodel, but this cabinet was the first thing I actually committed to. I think I visited every design center and cabinet retailer in the Northern Colorado area, but once I stumbled into Tharp cabinets I was sold. Made in Colorado, amazing quality, and cheaper than literally every other company on the planet? Yes please, I'll take it!
Next, picture the vanity topped with a sparkling slab of blue dunes granite from Castorena's with a raw edge and two of these crisp white, modern vessel sinks from MR Direct. Yes, granite in a bathroom, you guys. I know everyone is on a quartz kick right now and granite is more porous so it requires annual maintenance. It's just my personal preference, but to me quartz is like man-made diamonds.... it's just not for me. I want stone that is natural and earthy and honestly, the process of sealing it is no big deal! When I do it to my kitchen countertops it takes about the same amount of effort as cleaning them after preparing a meal.
My husband really wanted to do under-mount sinks. Under-mounts are big right now and I think as Realtors we both get used to seeing what the builders put into new homes and start to convince ourselves that this is what we want too, but I love the more custom look of these porcelain vessels. When men hear the words "vessel sink" I am pretty sure they picture a salad bowl perched under a faucet, so I really had to show him these sinks in order to win this one. Vessels can still be very modern and sleek as this lovely minimalist vessel sink demonstrates perfectly. The category of sinks gets a bad rap from the clear or colored glass sinks you might be picturing from when they first entered the interior design scene and are out of fashion now, but there are many more options in the category! I love the symmetry of two rectangular vessels next to each other, and can't wait to see them installed in our new bathroom!
All of the bathroom accessories, faucets and shower trim are from Pfister Faucets of which we have several elsewhere in our home and are obsessed with. The finish is called Tuscan bronze and coordinates perfectly with the rest of the hardware in the house. Thinking through and obsessing over every finish and detail is one of the perks (or curses depending on how you look at it) of updating an older home. Once you start paying attention to each piece of hardware in the home it's hard to stop! No hook or knob is too small to be handpicked for your space. There is something about the contrast that is achieved with a nice dark finish that really makes a space feel more custom, and while tuscan bronze can be used in a variety of design styles like the more contemporary style you see in the photo above, I think the dark finish is the perfect finishing touch for a rustic space.
Did you know that brass is making a come-back? Of course, they're calling it gold or champagne now and the styles are very different from the brass that we're still ripping out of older homes, so it's not exactly the same but it still feels a bit too soon for this metal to be back on the scene. I'd note that what is big in the interior design world doesn't always play well in the real estate world, so my official recommendation as a Realtor is to avoid diving too deeply into this trend just yet. Unless of course, you love it and plan to stay in your house forever. In that case do whatever makes you happy! If there's a chance you might sell within the next five years, you may want to stick with something a little less trendy and cutting edge that your home buyers will be more likely to understand. The possibility of moving is neither in or out of the cards for us right now, but we can't help but think about it in our line of work. All of that to say, I couldn't fully buck the trend and wanted to add a hint of gold in a way that wouldn't be offensive to the next guy in line should we decide to make a move in the future. This two-tone light fixture from the Light Center in Fort Collins ties together the dark bronze and gold accents perfectly, and I love the way the arch of the arm lends more visual interest than a more expected square or linear design would.
One of the goals for the remodel is to add in some space conscious storage for bathroom essentials that end up cluttering up the counters. There are a lot of options out there for shelving, but it was love at first sight when I came across the clean design of this recessed wall niche from Fox Hollow Furnishings. We have two of them ready to go in, one across from the vanity and the other one above the tub. Our contractor may have been more excited than I was when he saw them, believe it or not. Based on his reaction, he must have thought I was going to make him build something like this from scratch because the ease of installation has him over the moon.
I'll post some progress updates in the upcoming weeks as well as a lot of photos of the final product. Track me down on instagram @joannagyrath for more frequent updates!