Located in a lovely historic building in downtown Greeley that has been fully refurbished, the vibe in Blush Boutique is glamorous with a touch of urban and rustic all rolled into one lovely little shop. In addition to gorgeous feminine dresses and lacy tops, you'll find a variety of curated home goods, select beauty items, and pieces made my local artisans. Every item in the store is handpicked by Emile, the shop's owner, herself or one of her style-savvy "Blush Babes" to delight and inspire women.
Emilie, the boutique's owner and creative director, has a passion for uplifting women in the Northern Colorado community. When I asked her if there was anything specific she'd like me to share about the boutique, she said "the biggest thing is that we want to be a place where women feel loved and appreciated." In addition to managing Blush, Emilie is a wife, mother, photographer, blogger, and all-round inspirational woman.
I wanted to share this post from her blog in which she shares about her journey of opening the boutique while also going through the exciting transition to motherhood. In it she says "I decided that if I didn't pursue this dream, this ache inside of my chest, that I would regret it for the rest of my life. I was tired of seeing everyone else do what they loved while I sat on the sidelines." If you're a small business owner looking for inspiration or you're dreaming of opening a business, or you're dreaming of anything really, you should read this post (click here).
Complementing its mission to encourage women in Northern Colorado, Blush has started a Blush Cares program, donating profits to charities that support humanitarian efforts including helping victims of sex trafficking. Blush encourages Northern Colorado nonprofits to reach out to them about arranging pop-up shops to fundraise for local charity. We got to experience the kindness and generosity of the boutique and its customers with their toy drive that they held for foster children in Weld County last December.
Blush Boutique, thank you for the contribution that you are to our community and for being an uplifting space where women can escape the chaos of our busy lives to treat themselves and feel pampered!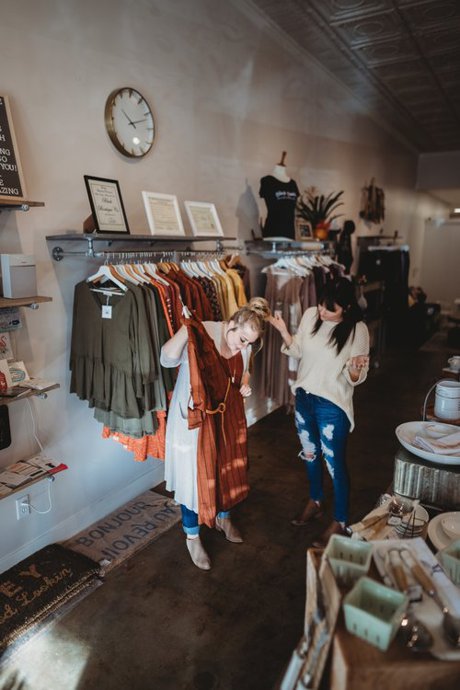 Friends, if you have yet to visit Blush Boutique in Greeley, it's about time! In addition to supporting this great local business directly by shopping in their store, you can also show support by giving them positive reviews online, following them on social media, and telling your friends about the goodies you've found there. Behind directly buying their products, word of mouth advertising is one of the best ways to show love to small businesses in our community!
I've said this on the blog before, but shopping small one Saturday per year is not enough to keep our small business community growing and thriving! Two of my favorite locally owned businesses shut their doors in 2018 breaking my heart, but also inspiring this series of Northern Colorado Small Business Spotlight posts. I've featured local businesses before, but not like this. Now it is my mission! Owning a small, local real estate company has been an adventure and shown me first hand how important it is to support local businesses in our community to ensure that they will still be here for years to come. I'm starting out with some of my favorites, but would love to hear about your favorite small businesses so I can meet and fall in love with them too!