When we bought our house, the master bathroom was carpeted.
I feel like I should pause and let that sink in for a minute.
Are you picturing moist, steaming hot feet stepping out of the shower onto plush, permanent carpeting? If so, then you understand why having the carpet ripped out and the bathroom floor tiled was the very first improvement we made on the house when we moved in. Until the tile was finished, I was perfectly content to take my showers in the kids' bathroom down the hall that was graciously furnished with laminate flooring.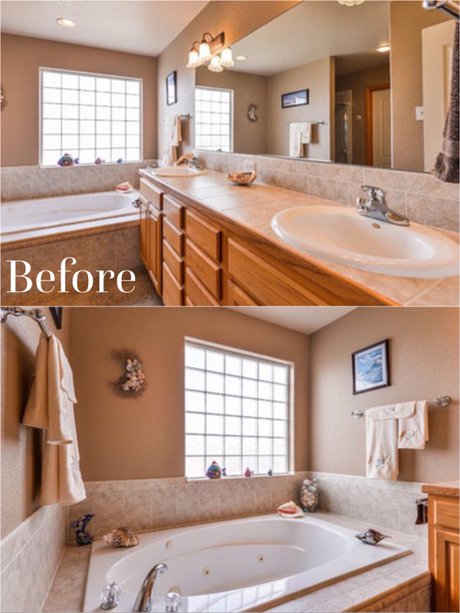 To select the tile, we visited the beautiful showroom at Dales' Carpet One in Fort Collins, which despite its name offers every type of flooring, and hired their contractors to install it. There were so many options in the showroom, from wood-look tile to various shapes and textures and patterns of installation. Keeping in mind that the existing tile surrounding the tub and shower would remain, we selected a porcelain tile in a very neutral grey to compliment the existing elements in the room and maintain a somewhat minimalistic asthetic. I was very happy with the end result, and the designers in the shop as well as the installers who came to our home were a pleasure to work with!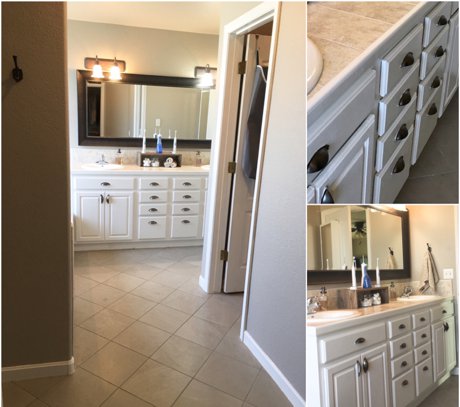 Once the new floors were in, my attention zeroed in on the golden oak vanity and trim. As a Realtor, I know that there are a lot of people who love golden oak and that this stain color has it's place in the world, but that place was not in my master bath. As much as I would have loved to have ripped out the vanity and replaced it with a sleek, furniture-style vanity with a Carrera marble countertop and vessel sinks (and still dream of doing this in the future), our goal with this somewhat modest makeover was to make this master bathroom functional. And clean.
I used a bonding primer after a light sanding, followed by a few coats of a high quality paint. While the job was a DIY and the finish isn't flawless, my newly white vanity and trim made the space feel clean and fresh. I also painted the walls a light grey to tie in with the hue of the tile. While I very much like the tan walls in the rest of the home, a cooler tone in the bathroom always just feels a little more clean.
I also updated accessories with oil rubbed bronze hardware and a large framed mirror that played off the same color palette. I selected the cup style drawer pulls for the vanity because I love that they add a farmhouse feel, and that their larger size broke up the white a little bit. I wish I had better "before" pictures that showed the number of towel bars in this bathroom. There were six, which just seemed like an excessive number to us. We took them all out and replaced them with decorative hooks in the same oil rubbed bronze as the lever-style door handles and drawer pulls.
The final step was to add a few accessories to increase functionality. For us as a family with young kids, we quickly learned that we needed more storage space, and that storage space needed to be out of reach from certain little helpers. These are three accessories that made a huge improvement in our ability to find things and keep them tidy(ish).
1. Mirrored Cabidor- I have pictures of this at the bottom of this post, but wanted to rank it first as this cabinet has been a game changer. Our previous homes always had a medicine cabinet in the master bathroom, which, it turns out, we missed as soon as we didn't have one. This is a great replacement that hides out of the way behind the door, and because it stays magnetically closed against the door, it functions perfectly as a full-length mirror when not in use. It also is huge and can hold a lot of items.
2. Space Saving Over the Door Laundry Hamper- Our littlest one is at the stage where any container she finds must be emptied all over the floor, so getting the dirty laundry out of her reach was important. If only it was this easy to get everything out of her reach!
3. Counter Shelf- This might seem small but adding this shelf took the counters from a tangled mess of cords to an organized, tidy space. I also love that the natural wood brings back some of the rustic look that we lost inadvertently when we decided on a white vanity.
SaveSave
SaveSave
SaveSave