The objective of a "Mommy and Me" date is quality time spent together doing something your child enjoys, although I think I love all of these just as much as my kids do. There are so many fun things to do with kids in Northern Colorado I couldn't list them all! I limited this list to our top 15 favorites and only outings that really encourage fun, interactive experiences between parent and child. All of these could be done with any age child, but these are our top picks right now with our toddler and preschool-aged kiddos.
One disclaimer: this list is heavy on coffee, trains, picnics, and water play. We know what we like, okay?
1. Buckhorn Northern Railroad at North Lake Park and Lake Loveland Swim Beach
Trains and water are two of my little boy's favorite things, so this is a winner every time. At $.75 per ride, we can go for as many laps around the tracks as he wants, and then take a short walk over to the Lake Loveland swim beach to cool off. This is a great place to bring a picnic, and there is also a playground at North Lake Park. I suggest checking out the hours of operation for Buckhorn Northern Railroad before you go since the schedule varies by day of the week.
2. Splash Pad at Spring Canyon Park with a picnic
Spring Canyon Park is a great place for those hot afternoons when you just need to let the kids run wild. The playground is huge, so it almost never feels crowded no matter the day of the week and the location of the water feature right next to the playground is perfect for my kids who want to run back and forth a dozen times.
3. Windsor Lake Swim Beach followed by ice cream at Robin's Nest
This has been one of our favorite mommy-and-me dates since before we were a family of four. We try to pick off-peak times when the crowds won't be too bad at Windsor Lake so we can really play together, which isn't difficult for us since we are early risers. Boardwalk Park also features a train car that we always have to visit, and a playground to help you dry off after the water. Robin's Nest at House of Windsor is hands down our favorite destination for ice-cream in Northern Colorado, and it tastes even better after working up an appetite in the sun.
4. The Farm at Lee Martinez Park and a picnic at the playground
No list of children's activities in Northern Colorado is complete without the Farm at Lee Martinez Park. My favorite thing about the farm is that it's small enough to not feel overwhelming when I take both kids by myself. We spend time feeding and interacting with the animals, then head over to the playground to eat our picnic and burn off some of that endless toddler energy.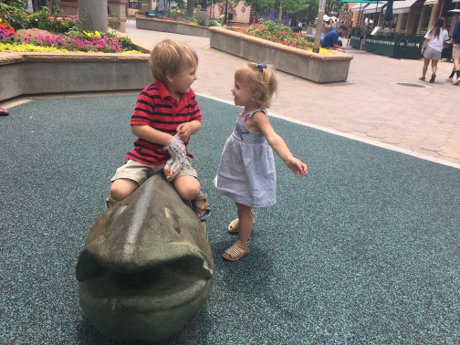 5. Old Town Square
Old Town Fort Collins just never gets old. We love to get ice cream at Ben and Jerry's and sit in Old Town Square at the cute little blue tables. When it's a little too chilly for ice cream, we'll go into The Right Card for a $3 bag of jelly beans to sit and eat together. There are usually musicians playing in the square, in addition to the painted pianos, bear and fish statues to climb on, and the water feature, which is toddler heaven on a hot day.
6. Greeley Farmers' Market and the Colorado Model Railroad Museum (Saturdays)
The Greeley Farmers' Market is our favorite farmers' market in Northern Colorado because it's right next to the train tracks at the Historic Train Depot and there are often train cars parked nearby to check out. I mentioned that my kiddo loves trains, right? We like to get a bag of kettle corn and just sit and listen to the live music. Our favorite time to go is first thing in the morning when the market opens so we can get our fill before the Colorado Model Railroad Museum opens at 10.
7. Fort Collins Museum of Discovery
If you haven't been to the Fort Collins Museum of Discovery, you don't know what you're missing! The Tot Spot includes the most amazing train table you've ever seen, a water zone, and a giant tree fort. There are also numerous kid friendly great exhibits and occasional programs geared toward little ones.
8. Jumpin' (with Human Bean on the way)
My kids love Jumpin' so much we had to buy a punchcard. They allow outside food and drink, so I love to grab a coffee on the way to help me keep up with the little ones as they bounce. This is a favorite outing for weekdays when there are rarely many people there and we can pretty much have the place to ourselves to be as wild as we want.
9. Gardens on Spring Creek
I love getting the kids outside and spending time appreciating nature. In addition to acres of beautiful botanic gardens, the Gardens on Spring Creek features a Children's Garden complete with playhouse, sandpit, and miniature train garden. This is a favorite outing for not-so-hot summer days.
10. Sunflower Farm with a picnic
Okay, this one is a little out of the way, but hear me out, because it is worth the drive! There is so much more to do at Sunflower Farm than petting goats and horses. It has tractors, construction vehicles and an old airplane to climb on, as well as tree houses, forts and a fire pit for roasting marshmallows. You will have to drag your kids back to the car because they won't want to leave! I would definitely suggest saving this one for a cooler day and bringing cash for marshmallows and popsicles. Be sure to buy your tickets online in advance as there is a limited number of entries each day and it does sell out.
11. Noontime Notes in Downtown Fort Collins and Splash Pad at Oak Street Plaza (Tuesdays)
It doesn't get much better than this casual outdoor concert for a Tuesday lunch date with the littles. The Noontime Notes Concert series will continue through the end of July so there are still a few weeks left! Bring a picnic and be sure to dress the kids in swimsuits because the splash pad will be more than they can resist.
12. Coffee + hot chocolate date at Bindle Coffee followed by a visit to the turtles
Bindle is one of my favorite establishments in Fort Collins, and I will take any excuse to visit. My kids could climb on the antique wagon outside for hours, regardless of whether that's what it is intended for, and sitting around the fire at Jessup Farm Artisan Village sipping coffee and hot chocolate on a chilly summer morning is a great way to start your day. When we have time, we love to swing by Bath Garden center afterward for the kids to visit the turtles and for me to fantasize about the future of my garden.
13. Cool Beans Playhouse
Coffee and a safe, enclosed play area? Count me in. Cool Beans is a great date for those days when you want to be able to sit and sip while your kids still have an awesome time, but it's also definitely a place where you can play and have fun with them. Bonus, it backs to the railroad tracks and, if you're lucky, you might just see a train pass by.
14. Fossil Creek Reservoir Natural Area with donuts
I think Fossil Creek Reservoir Natural Area is our favorite trail because of how convenient the location is to our home and how short the trail is. Our kids can walk it by themselves, which is key since they are both way too independent for a stroller or wagon now. The views are perfect and there is always a picnic table available. I'm not sure why we decided that this is a morning outing, but we love to bring a breakfast picnic which, yes, typically includes donuts.
15. Mommy and Me Classes
Om Ananda Yoga in Old Town offers a Baby and Me Yoga Class that I did with our son when he was littler and we loved it. We only stopped because he got so heavy I was no longer able to do any of the exercises that used his body as a counter weight! There are also lots of Mommy and Me swim classes through the Windsor Rec Center and the Fort Collins Recreator, as well as other classes that you can take together. If you haven't done one of these classes together yet it's a great way to spend time bonding with your kiddo!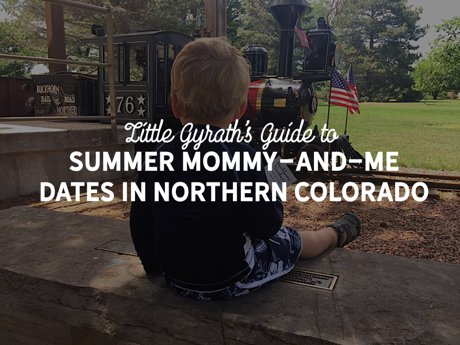 {The best way to follow the blog is to like Gyrath Realty Group on Facebook. Click here so you never miss a post!}