This time of year is all about expressing thankfulness, yet words don't do justice to the immense gratitude I feel toward everyone who helped pull off this beautiful event. Our generous friends and clients banded together at our Fall Festival for Foster Children to bring Christmas to 120 children in foster care in Weld County this year, more than double what we collected at last year's event. Thank you so much to every one who came out and made this event a huge success!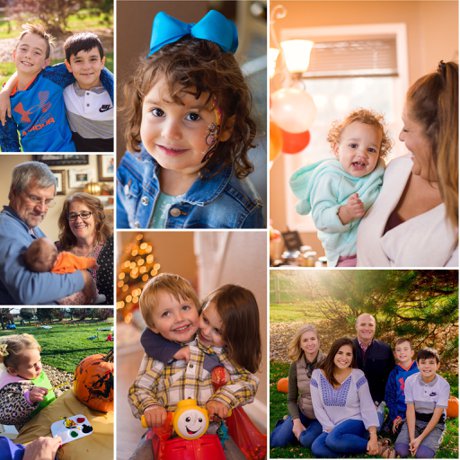 On top of being a great success as a fundraiser, we had a wonderful time enjoying the company of friends as we painted pumpkins from the Colorado Pumpkin Patch, had our faces painted, played yard games, hit a piñata, roasted marshmallows, and more!
This lovely handmade pumpkin piñata from Apinata4u Handcrafted Piñatas was a huge hit with the kids at the party, and the most detailed and sturdiest piñata I've come across! It's hard to capture in the photos, but I loved the effervescent leaves on the front of the piñata, which created a contrast and quite elegant look which served as a decoration for much of the party. The next time you need a piñata for an event, be sure to support this great small, family business specializing in handmade and custom piñatas!
Among the delicious food at the party were a caramel apple bar and s'mores bar, which I had to share pictures of here because... yum!
Above, the caramel apple bar was complete with delicious gourmet caramel sauces from Sweet Addict bakery (made in Colorado!) paired with granny smith and honey crisp apples from Trader Joe's, a top these beautiful rustic cutting boards from Peccadilly.com. It was so easy, rustic, fall-inspired, and delicious! If you're not familiar with Peccadilly yet, you have to check out this wonderful online boutique which was my favorite place to shop for decorations and supplies for this event, but also features a variety of other products. The reason I love them is that they exclusively sell ethically conscious products that support small businesses, artisans and designers with similar values. The gold garlands and lovely fall napkins with leaf designs were also ordered from their website.
The s'mores bar was a huge hit as well, with a variety of graham crackers and cookies which could be paired with three different types of Chocolove Chocolate (made in Colorado!) and five different flavors of Smashmallow marshmallows. Truly you guys, if you haven't tried a s'mores with cookie dough marshmallows and hazelnut butter cups you do not know what you're missing out on. I got so many compliments on this s'mores var and the variety of pairings!