I'm such a detail oriented person, that to me cabinets just look unfinished until they have hardware. Of course, the addition of a knob or pull to a cabinet or drawer does so much more than add visual interest-- it also increases the functionality of a space by making the items stored inside more accessible. Probably my favorite part though, is that adding pulls keeps your cabinets and drawers looking cleaner- especially in spaces like your laundry room where a lot of yuck happens!
My laundry room has been one of the most neglected rooms in my house, so I'm working on a few updates that I'll share on the blog soon, but wanted to get this tutorial out since it's been in my head for a while now! I developed a bit of a hack when it comes to installing cabinet pulls when I did them in our kitchen a couple of years ago and have been kicking myself for not documenting and sharing it then!
But before I dive in too deep, I'll answer the question that I know everyone is thinking in their heads: where did I find such beautiful pulls?! These one of a kind, handmade pulls are made in Silverton by Bar Z Decorative Hardware which means you can beautify your home AND support a Colorado small business at the same time when you order these pulls! I selected an oil-rubbed bronze design from their whimsical collection because I was just craving something fun and pretty to dress up an otherwise boring space, but the variety of styles and finishes are endless- with designs from contemporary, to rustic, to traditional, and everything in between- so I highly recommend checking out their full catalog online. I have to tell you though, they are even more beautiful in person than in pictures and the kind of pieces that you have to be able to touch to fully appreciate the detail and quality- these things are heavy!
You will need:
Wrapping paper with a grid pattern on back (for large drawers/cabinets) or graph paper (for smaller drawers)
Your kid's crayons
Scissors
Dry erase marker
Painter's tape
Drawer pull/knob with screws
Drill
Step One:
Line up the grid with the edge of the cabinet and tape it in place so it doesn't move. Use the crayon to trace the outline of the cabinet onto your paper. Do this once for each different style and size of drawer/cabinet you will be attaching pulls to.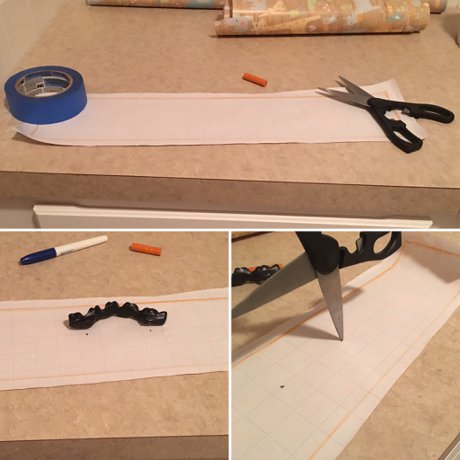 Step 2:
Once you have your outline of the drawers, remove the tape and cut it out. Determine where you want your knob to go, and punch holes in the paper to coordinate with the screw holes. I've heard all kinds of rules about where knobs and pulls should be located, and I don't agree with any of them. I think this is personal preference, and while I have seen some that were clearly "wrong," I strongly support that you do what you like in your own home! If you're getting ready to sell your home, well, that's a different story so give me a ring and we can discuss!
Step 3:
Realign your stencil with the drawer/cabinet, and use your dry erase marker to mark your drill sites. Repeat this for each drawer/cabinet. (hint: before going on to the next step, I suggest lining up your pull or knob so you can envision how it will look. This is why I recommend a dry erase marker, because it's not yet too late to change your mind on the positioning!).
Step 4:
Drill your pilot holes. I decided to attach one pull before moving on and drilling the rest of them just to be sure I didn't somehow make a mistake, but if you feel very confident that your template is perfect, you can just go down the line and drill them out.
Step 5: Attach your pulls!