If you've been following my blog for any period of time you know that I am completely addicted to Knape & Vogt products. Although my mission to organize our home seems to be a moving target, any progress I've made thus far can be attributed to the handy organizers from Knape and Vogt which have multiplied our storage space and made "a place for everything, and everything in it's place" a little bit more attainable as a goal. Even on our most disorganized days, at least that saying is still half true around here!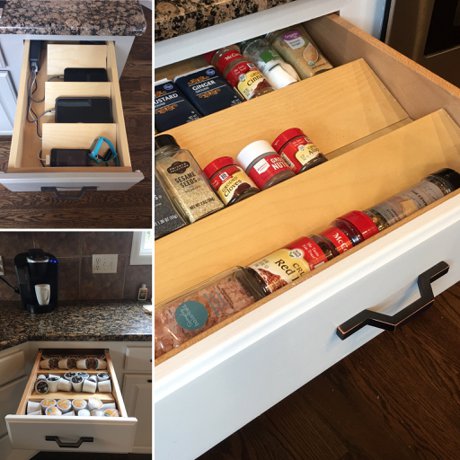 I have to start with this spice tray insert because it is amazing! Yes, it is perfect for keeping your spices organized, but it is also the perfect size for separating different flavors of k-cups (no more carousels taking up precious counter space!) and the perfect holder for charging phones and other small electronic devices.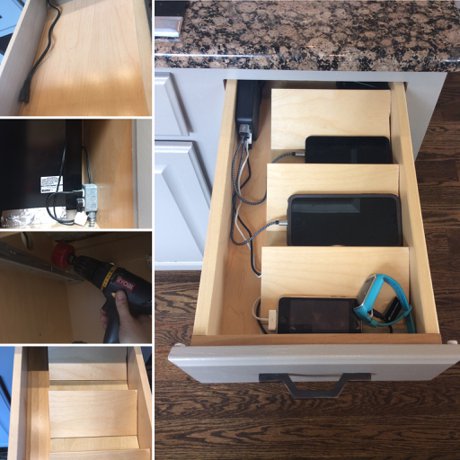 I have to share details on how to turn this spice rack into a charging station because it is one of my favorite DIY projects to date. I am loving not having cords and devices scattered everywhere in our home and contained neatly in a place where no one can see them. The project was easy and took about an hour to complete. You'll need a Knape & Vogt Spice Tray Insert, a saw (depending on the size of your drawer), a drill with a hole saw attachment, and some sort of extension cord depending on the types of devices you are charging and the distance to the closest power source.
Because of different kitchen configurations, doing a real step by step tutorial doesn't seem like it would be of immediate benefit, so my goal is to share enough tips here that you can plan a similar project in your home. A key detail for this project is that any drawer you choose must be easily accessible to an outlet. I selected a drawer in my island which was right beside the power source for my gas cooktop, so the power source was very easily accessible by drilling a couple of holes to feed the cord through- one through the back left side of the drawer itself, and the other through the cabinet wall parallel to hole I drilled in the drawer. Many kitchens don't have concealed outlets inside cabinets like this, so it might make more sense to do this project in a drawer next to your range or fridge, and drill a small hole toward the back of those cabinets where it will be hidden from sight.
Because of the movement of the drawer, I wanted to drill a large enough hole that the cord could move with it without getting stuck or tangled and potentially affect its usability. I chose to drill a hole with an inch diameter and it has worked well without a single issue.
I love that the Knape & Vogt spice rack is so large, because I was able to organize all three of these drawers with only two of them, by cutting one to serve as the k-cup organizer and charging station. This might not work in all kitchens depending on the dimensions of your drawers, but it's worth checking the measurements before you order!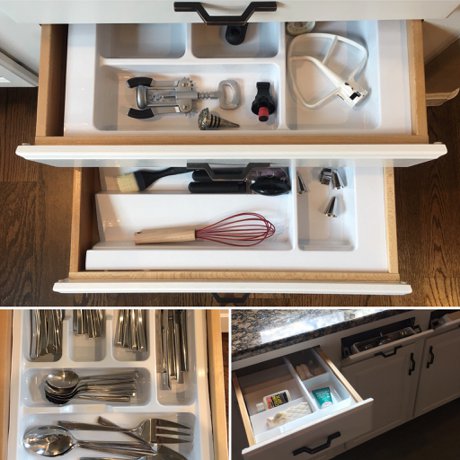 A little more straightforward as far as projects go, while I was at it I organized every drawer in my kitchen. It is amazing what giving each item in your kitchen a home can do for your sanity! I actually found the cosmetics organizers to be perfect in the kitchen as well to organize less used items like whisks, frosting tips, mixer attachments and items like that. Sizing them was easy and I was surprised to only need an exacto knife to cut them to size. I decided not to permanently attach them because having the ability to take them out and rinse them in the sink seems necessary in my home, but you could easily use a screw to attach them and even caulk them in for a really nice, built-in look.
Here are the ones I used: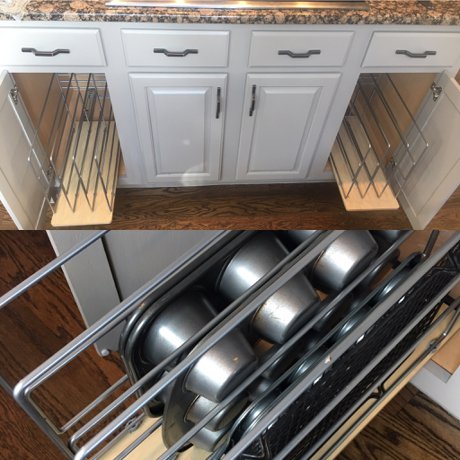 I've talked about the Roll-out Wood & Wire Dividers from Knape & Vogt before, but truly can not get enough! It is unbelievable to me how much more I can fit in my cabinets with the addition of these roll-out racks, and how easy they are to install. Both of these wood and wire slide outs were installed in under 20 minutes with a total of 8 screws between them. They are perfect for muffin tins, donut tins (yes for making donuts!), cutting boards, cooling racks, lids, you name it.
A less expected item that has become a huge convenience in my kitchen was adding a roll-out laundry hamper in our pantry. Not for laundry, but for produce! Produce drawers are becoming a trend in some of the high end kitchens these days, and I've been in love with the idea of having a bin to contain things like squash and sweet potatoes that we always seem to have massive amounts of from the garden. This is far superior to any other storage method I've tried, including storing them in a loose basket at the bottom of the pantry because it gets so heavy! Even when this sliding bin is full, it still glides easily on the track so I can access the produce without trying to maneuver a bulky bin.
We also added a second Pot & Pan Caddy for organizing other kitchen essentials that needed a more permanent and convenient home- mixing bowls, toaster, tea kettle, strainer and pizza stone- yes, one caddy can hold all of that. This caddy is one of my favorite Knape and Vogt products because it is shockingly easy to install and use and multiplies your cabinet space by 3 or 4 times. If you are shopping for a cook, a home cook, or really any person with a kitchen this Christmas, this caddy will be such a hit!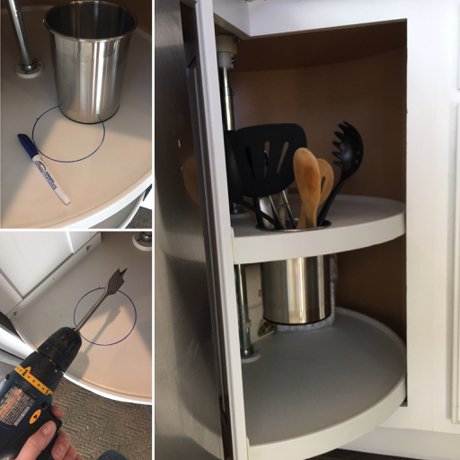 Last but not least, I wanted to share one last DIY project that I did recently: a built in utensil caddy in our lazy susan. I used a utensil caddy that I already owned, and really any type of caddy will work as long as there is a little bit of a lip around the top to keep it from falling through the hole. Essentially the steps are: Pick a caddy and where you want it, trace its shape on the surface, and cut the hole for the caddy to slide down into. Looking back there are probably a hundred better ways to make a hole in a plastic surface, so don't focus on my method so much as the end result, because that's what I'm loving! Any project that results in fewer items on my countertops feels like it adds space to my kitchen and is totally worth the investment in my book!