It would be pretty easy to write an entire post about how much I hate laundry. Between the icky smells, the mysterious stains that appear on my clothes any time they end up in the same laundry basket as the kids' clothes, and the missing socks, there is easily enough content there. Not to mention the sheer volume of laundry that accumulates! If we aren't washing a load every other day in my house, we are falling behind. I dream of the day that my kids are old enough to launder their own clothes, or at least be able to get through a meal without needing an outfit change.
But you didn't come here to hear me whine! Instead, let me share with you what I've been working on lately to improve the functionality of my laundry room and streamline the laundry process.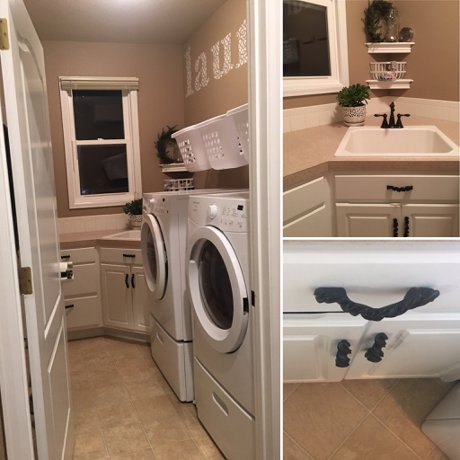 This might sound odd unless you can relate, but clutter and piles cause me anxiety. As I started thinking about updating the space, my main priority was getting organized and clearing surfaces so that when I go into the laundry room I can tackle the task at hand, rather than spend half my time trying to find homes for random items that collect on the counter and the tops of the appliances. But getting rid of the clutter and the unsightly things was only the first step. I also wanted to transform the laundry room into a space that felt pretty, bright, and feminine. Adding some pretty accents to the room seemed like the best way to make the laundry room feel less like a forgotten corner of our home and more like a space that we are using to its fullest. Because it's a small room that serves several functions, my goal was actually to reduce the number of items not introduce more stuff, so finding pretty accents that served a function was the main goal in this space when it came to decoration.
Adding hardware to the cabinets and drawers felt like an obvious way to add some style will improving the functionality of the space. I love my new Whimsical Pulls in oil rubbed bronze from Bar Z Decorative Home and Cabinet Hardware, made in Silverton, Colorado! You can get a closer look at them on their website or by checking out my How to Install Cabinet Pulls Tutorial. Being able to support a Colorado small business in addition to finding such a beautiful, quality product is a win-win!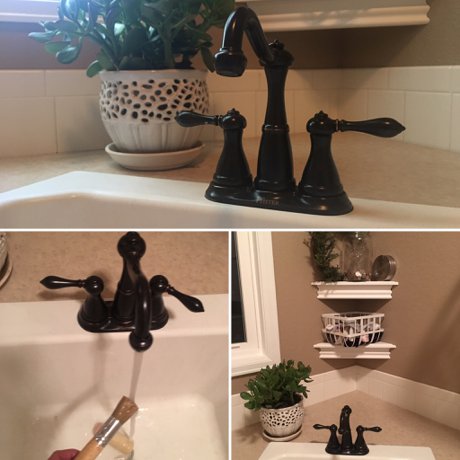 Complemented beautifully by the cabinet pulls is my elegant new faucet from Pfister. The Tuscan Bronze finish is a perfect match, and the feminine design adds exactly the feel I was hoping for in this laundry room. After all, I am the primary person who uses it, so if ever there was a room in my home that should have a fun and feminine feel to it, the laundry room is it. This is now the second Pfizer faucet in our home, and I continue to be impressed by the quality and beauty that makes these faucets feel more like sculptures that serve an important purpose than a simple faucet that is merely used to bring water to a utility sink. If you're on the market for a new faucet, I'd suggest checking out their entire catalog as they have so many lovely options, but I am also linking here to the Pfister Marielle Mini Widespread Faucet that I picked.
Above the utility sink, I hung two lovely Corner Wood Shelf Kits from Knape and Vogt in white to hold some of the functional items that need to exist in the laundry room but don't need to be living on the countertops where they get bumped over and make a mess. Their size was perfect to hold a big mason jar for loose change, and a basket for loose socks. I added a small wreath to the top shelf because it felt like it needed a little love, but other than that and the potted plant on the counter, every piece in this laundry room has a purpose.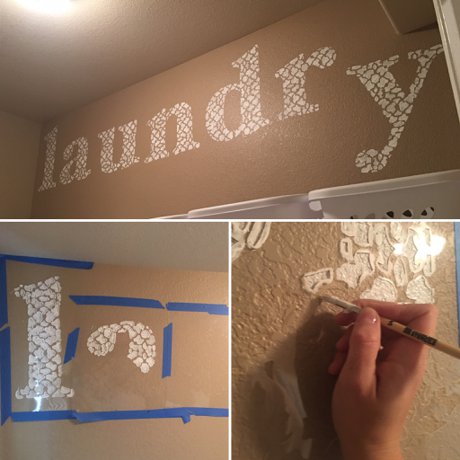 Okay, I lied. Technically having the word "laundry" painted on the wall serves no purpose, but let me explain. When I first started shopping for this project, I saw hundreds of cute little laundry signs with quotes that I could hang or set on the counter for decoration. While I liked the idea, I couldn't justify bringing in more objects to this space when one of my main goals has been to declutter. After seeing an example of using stencils to decorate a laundry room on the Cutting Edge Stencils Blog, I decided that this would be the perfect way to bring in the look of a sign without actually bringing anything new into the space to collect dirt or create clutter. I selected the Zamira Letter Stencils from Cutting Edge Stencils because it seemed to coordinate well with the overall project, but it was a hard choice since they have many great designs to choose from. And painting them was fun!
Once I had my pretty accents picked out, the next main goal was to hide from view or minimize everything else. The trash can was an obvious starting point since that is always in the way and takes up valuable, limited space. I used a Door Mounted Waste Bin from Knape and Vogt to get that bin out from underfoot and concealed in a cabinet where no one would know it exists unless they need to.
Next up on my "hide" list? I'll give you one guess: it's worse than doing laundry.
Ironing.
Not only did I not have space to house a bulky ironing board between uses, but the tight quarters meant that the hassle of pulling it out and ironing clothes in there was such an annoyance that I would avoid doing it at all costs. When a simple spritz of water wasn't enough to de-wrinkle a shirt, I would end up dragging the bulky board out into the living room where the kids could knock it over onto themselves creating a whole different kind of stress. Essentially I had a very flawed, thoughtless system that wasn't working and needed major improvements. Enter the Nutone Ironing Center which pretty much saved my sanity. There are a few different options of cabinet style, but I was incredibly pleased with how well the white cabinet door matched my existing cabinets. This unit looks like it was made for this space. Honestly, my laundry room has a little less than the recommended clearance for the ironing board to pull out, but it swivels in all directions so it works perfectly even in a small space like mine. I can't promise that I will love ironing now, but having the board, the iron and everything I need ready to go at a moments notice means that when I can't avoid it, at least it can be streamlined and easy. I am loving not having to store that big ironing board!
Last and definitely not least, I need to share the LUXE Laundry Sorter System which was invented by an entrepreneur in Lakewood and is made by hand in Colorado. Essentially the system involves wall mounted cleats that allow you to hang your laundry baskets on the wall when needed, or stack them to one side when not. I thought that this was a great alternative to shelving in this area for one great reason: when not in use, they no longer have to take up space. I decided to hang them horizontally over my washer and dryer because that's where I would tend to place the laundry baskets for use or storage anyway, but I needed a better option since the baskets were often tumbling off during spin cycles. I hung four cleats so that I could have a basket for each family member when sorting clean clothes, although I use them most often with just two baskets labeled "clean" and "dirty."
These cleats are very secure, which I know because I hung them myself with the provided anchors according to the instructions. Since I was hanging them horizontally my process was a little bit different, but only involved a level to make sure they were straight, a dry erase marker to indicate the line where I wanted them to line up, and a drill. It was really easy, and took me about half an hour from start to finish. The cleats arrived in a raw wood which is really lovely on its own and doesn't even need to be painted. I did paint them to help them blend in with the wall, but when it came down to it, I skipped the last coat because I liked having a little bit of that natural wood grain showing through.
Here's a quick little video from the inventor that shows how to use the system in a vertical configuration which probably makes more sense in many laundry rooms. This system is so nifty!
And finally, my before and after side by side: