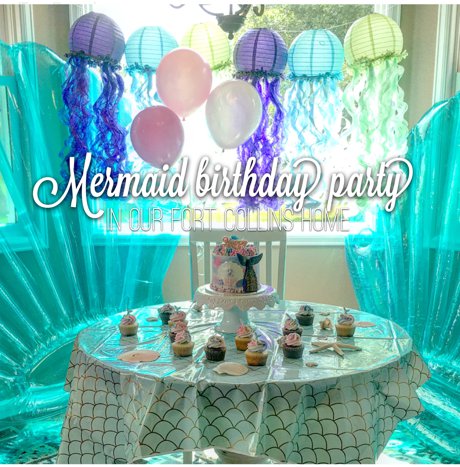 I love birthdays. Don't get me wrong, that doesn't mean I'm not also sad that my kids are getting big and not my little babies anymore. My baby is two now, of course I'm an emotional basket case over it! It's just that life is such a whirlwind, and the past two years have been the craziest ones yet, so having that one day each year set aside to just appreciate the people we love feels like it needs to be celebrated to the fullest. Of course, I want my daughter to know that she is celebrated, loved, and accepted every single day, but on her birthday I want her feel it to her bones. I want her to smile and giggle and feel complete joy every day, but on her birthday I want her to double over laughing so hard that her cheeks and ribs hurt. I want every day to bring moments that build her confidence and sense of worth, but on her birthday I want her to feel like the world is her oyster and there is nothing she can't have or do. I want so much for my kids- both of them- to grow up and think they had the best childhood ever. There are a lot of days that fall short, but not birthdays. Birthdays have to be perfect.
Her first birthday came and went so quickly and during a time that we were so overwhelmed with just keeping afloat that we didn't pause to celebrate it nearly as much as I wish we had. First birthdays are a big deal, and the fact that hers ended up being nothing more than a casual barbecue and that I can't even remember what her cake looked like (gasp!) has been plaguing me with mom guilt ever since. Mom guilt can make a woman do crazy things.
Enter Ariel.
Having a Disney princess attend your birthday party is pretty much as good as it gets for a little girl. While she's not really one to sit and watch a movie start to finish, she loves books and recognizes Ariel from the Little Mermaid story book, calling her "pretty Ariel." The other girls at the party knew just who she was and were so excited to see her, smiling ear to ear and blushing at her when she turned to them. It was sweet and I will definitely hire a princess through RJ's Amazing Entertainment again for future parties! While we did a little mermaid party, there are a lot of options for children's entertainment, so you should definitely look into them the next time you're planning an event in the Northern Colorado area and also check out the party planning section of the website. I found a lot of inspiration in this article on how to decorate for a Princess Ariel party.
My Daughter loves fish, bubbles and water so we had a lot of fun with the mermaid theme as we decorated for this party. We did a mermaid photoshoot at Windsor Lake with Fort Collins photographer Dennis Matty before the party and were able to incorporate those pictures into the party decor. I framed an 8x10 of my favorite picture from the photoshoot and propped up a number 2 next to it, and also printed a bunch of 4x6's to pin with clothes pins on a fishing net. It didn't photograph well being on the glass door like that, but it was cute in person! Despite the fact that my sweet shy girl didn't want to pose for a single picture, we had a lot of really cute shots!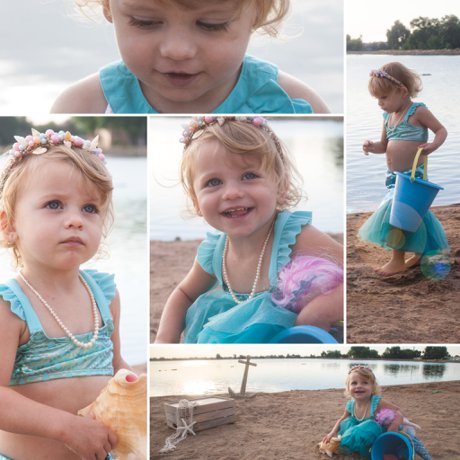 Okay, we need to talk about this cake. Pictures don't do it justice, and I wish I could serve every person reading this a slice of this heavenly dessert by June Poppies of Fort Collins. The detail that went into the watercolor buttercream frosting, the fondant seashells, the large clamshell with realistic ribbed detail and a number 2 on it, the large fondant mermaid tail with hand-carved scales and metallic gold accents, and the tiny little bubbles... You guys, the attention to detail on this cake far exceeded my expectations. In addition to this beautiful cake, which was so delicious that no one believed was gluten-conscious, we had a dozen cupcakes to add flavor options. These lemon poppy-seed and red velvet cupcakes with vanilla ombre frosting and ombre colored mermaid tails were so unbelievably cute, you almost couldn't eat them. But somebody had to do it, so we did and they were so yummy. I can't say enough about these desserts from June Poppies. They were perfect and I highly recommend them for your next party!
We had everyone's sweet tooth covered at this party between these gorgeous cakes, and the most beautiful fruit bouquets from Edible Arrangements in Fort Collins. The kids were calling them "fruit lollypops" and actually eating something healthy at the party which was a win! The chocolate covered strawberries were a huge hit with the adults, but my absolute favorite were the white chocolate covered pineapple balls with dark chocolate drizzle. Oh man, I could have eaten them all by myself. I got so many compliments on how pretty these were and will definitely use edible arrangements to cater a party again in the future!
For savory hors d'oeuvres, we served New England style crab cakes and Tempura Shrimp with Teriyaki dipping sauce for the adults. We did little cups of fish and chips for the kids, and also had snacks like goldfish, swedish fish, and treasure chest full of gold coins to nibble on. I've learned my lesson about trying to do too much myself and didn't make any of the food this time, instead I purchased these at Costco so they could just be popped into the oven in the last hour before guest arrived. The cute seashell shaped plates and straws, along with the decorative banners, mermaid pinata, and all of the other party decorations that weren't specifically mentioned came from either Target or Party City on Harmony in Fort Collins. If anyone has recommendations for a good locally owned party shop I would love to hear about that for future reference! I'd always prefer to pay that money to a small business in the Northern Colorado community instead!
Thank you to all of our wonderful friends and family who love our little girl and came out to celebrate her birthday with us! Everyone had a blast, and as much as I love having guests and hosting parties in our home, I feel relieved that the days following were able to be a little more quiet so everyone could recover from all of the excitement. Bouncy houses, friends, family in town, and sugar highs make for some really sleepy toddlers so that's our next hurdle to get over!