Something I love about small business owners, which I'm seeing over and over again as I write this series of Northern Colorado Small Businesses Spotlight posts, is the way they light up with excitement when they talk about their work. Brady Stewart of J. Brady's seasonings was no exception. Referring to his line of Fort Collins' made spice blends as a "passion project," Brady talked with me about his history, his love of food, and his plans for the future with such excitement that I left the conversation feeling a renewed energy for my own business. My hope for this series is to both introduce the Northern Colorado community to great local businesses and products like J. Brady's Seasonings, as well as share that entrepreneurial spark that makes small business owners unique and keeps us going!
For Brady, spicing up people's lives isn't his only gig. I wondered why someone with a successful career as an engineer for a food packaging company, where he can use his degree and work in the food industry, would spend his evenings and weekends packaging orders, presenting to retailers, and selling his spices at farmers markets. He described it this way, "If I work hard and have a huge win at work, I get a little bit," holding up his fingers to emphasize how small, "but the benefit is mostly to the company. Whereas with my spices, when I get a win I'm the one who sees those results. And they could be huge. My only complaint is that it does cut into my fishing time a little bit!"
If you imagined him saying those words with a chuckle and a Texas accent, you'd be on the right track. Brady Stewart reminisces of growing up in north Texas with parents who both loved to cook and experience the world through their love of food. He smiles when he tells me their names: Martha and Jimmy Stewart. His father, who shares Brady's first name, spent some time in Iran when he was a child. American Southwest flavors, Creole, as well as Indian and flavors from around the world spiced up family dinners in the Stewart home. Brady recalls watching cooking shows with his parents, and laughed out loud about how star struck he was when he met Rachael Ray in a bar in Texas out of complete coincidence.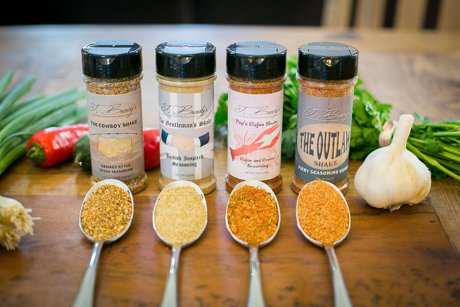 Going to college in Oklahoma, studying abroad in Italy, and traveling for pleasure to Europe, the UK, and New Zealand, Brady's cooking is inspired by flavors from around the world. At home, Brady found himself blending his own seasonings for his own personal use in his kitchen. "I wanted to master flavor profiles in a spice blend that you could use over and over again in a lot of recipes." His wife encouraged him to sell his spices, and before long he was moving production from his kitchen to a co-packing company in Fort Collins where they could be made in larger quantities and packaged for retail. Look closely at the labels on his seasonings and you'll notice that they share a common theme. Inspired by the craft brewing industry, Brady wanted his spices to have their own personality and be easily identifiable, just like the beer labels from craft brewers like New Belgium.
While Brady and his wife might not be Colorado natives, blending spices in Fort Collins that are inspired by beer is about as Colorado as it gets. Brady notes that there is a big difference between the small business community here in Northern Colorado than in Oklahoma where he started out. He shared about working with another spice company who I was surprised to learn is more of a friend than a competitor, and that he recently wrote an article about how to get started in the craft food scene for NoCo magazine to help other budding entrepreneurs. "Small businesses in Colorado are collaborative, and while there is also a bit of friendly competition, there is a general consensus that adding more raises the standard and the quality of all of the products on the market."
Brady's spice blends are now sold in over 40 retailers here in Northern Colorado and can also be purchased online at www.jbradyseasonings.com. Be sure to check out his website for some great recipes!