Our rustic powder room remodel is finally complete! Despite a few setbacks and surprises at various stages of the project, everything came together beautifully and we couldn't be more happy with the results!
I am in love with this reclaimed barnwood vanity. One of Roughing it in Style's own signature designs called the Iron Mountain Vanity, it has the kind of rugged beauty that is at once both entirely unique, yet very in style right now in rustic Colorado homes. Truthfully, pictures don't do it justice so you might need to stop by my house to see and touch in person.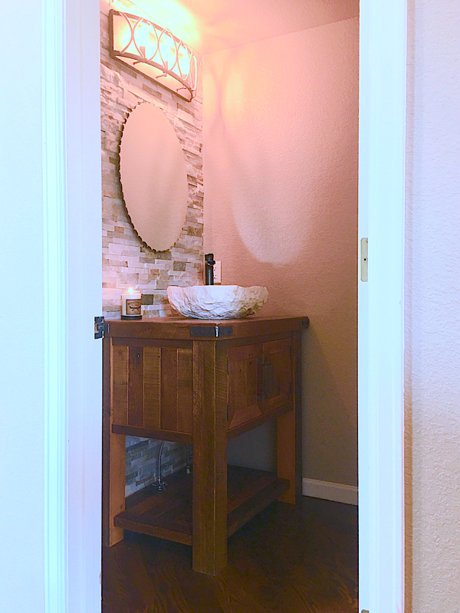 The century old wood sourced from barns in the Midwest, features saw marks along with a beautiful grain and patina that you'll only find on heirloom wood like this. The varying hues from board to board, and rough texture of the wood are paired with hand-hammered, antiqued pewter hardware that is equally stunning and completes the outfit like jewelry. Dings and imperfections add so much character, as well as feeling of history that we never could have found elsewhere for this project.
That's the really neat thing about the reclaimed wood products that you'll find in the Roughing it in Style showroom. The wood has already seen so much life. Though the pieces are new, the wood has history and adds a feeling of significance to the rooms they furnish. Bringing it into our home for the first time wasn't the beginning but rather a continuation of the story.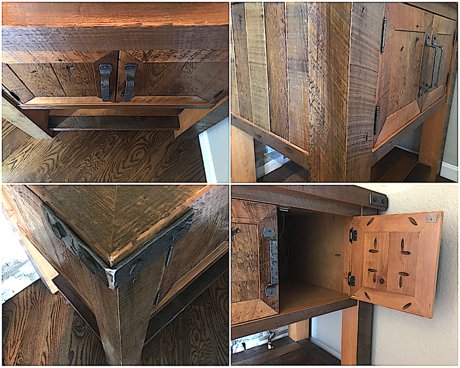 Like the historic wood, the craftsmanship with which this piece was built harkens back to an earlier time. Not constructed with wood glue like so many products these days, the open cabinet doors show the grooves used to fasten each board together with nail or screw, like furniture used to be. Solid, sturdy, and sealed in a thick coat of lacquer, this vanity promises to last for years into the future, even with daily use by our two little kids.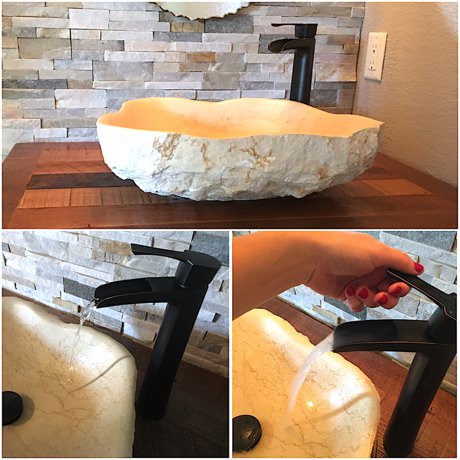 A vanity like this demanded to be paired with a beautiful sink and faucet that could hold their own. I knew immediately that we needed to go with a vessel sink as I couldn't bear the thought of how much wood would be cut away with a drop-in style sink. Glass or porcelain were out of the question, but I went back and forth between copper and stone for the material for the sink. It took finding just the right one to make my decision.
Chiseled from natural Galaga marble, this vessel sink from MR Direct offers a contrast to the color of the wood while being it's match in beauty and rustic charm. The stone feels earthy and unique, yet somehow obvious now that I see it all assembled. It's as if the wooden countertop was telling me it needed a marble sink to reconcile the stone countertop that you might expect to find in most powder rooms. The tie-in with the stacked stone backsplash is better than what I pictured in my head as I was designing this bathroom. This sink was meant for this powder room, it just took me a minute to stumble upon that answer.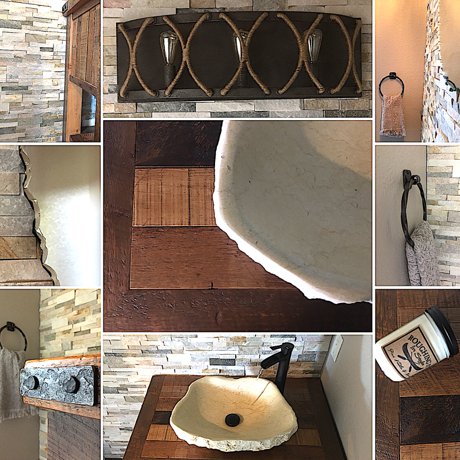 I paired it with a simple, but stunning faucet in antique bronze, also from MR Direct. We've been working on changing all of our hardware in the house to an oil rubbed or antique bronze finish, so deciding the finish for the faucet should have been easy, but I was actually a little nervous about how the antique bronze faucet would fit in with the pewter in the rest of the bathroom. The hardware accents on the vanity as well as the light fixture and towel ring, all from Roughing it in Style, feature a hammered pewter finish. However the smooth lines of the faucet and a dark matte finish aren't trying to compete or conform. It stands on its own and the harmony is perfect.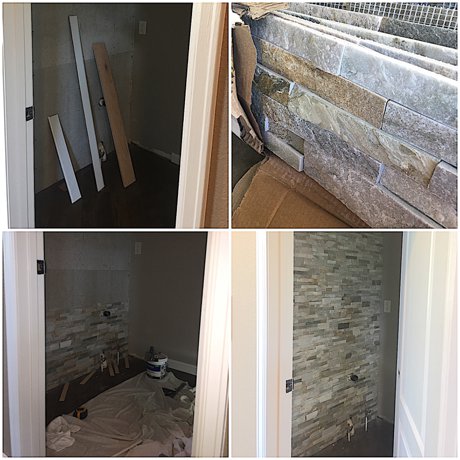 The first step in this renovation was putting in new floors and painting the golden oak trim white. I will write a separate post about that process so I'm not going to touch on that too much right now (follow us on Facebook to be notified as soon as it's live!). Once the floors were in, it was time for a beautifully rustic stacked stone wall to be installed. Truth be told, this isn't how I originally planned this project when we had just started talking over ideas. You could say the vanity from Roughing it in Style upped the ante I guess, because once we found that we were all in on the rustic.
I wanted to offset the rich, chocolatey brown of the vanity with a lighter, cooler palette for the stone accent wall. After talking it over and sending some pictures back and forth with Amy from Western Stone and Tile, she helped me decide on this beautiful, natural stacked quartz featuring gradations from light to dark grays alongside subtle honey browns. The stone has the perfect balancing effect on the darker wood of the vanity and floors.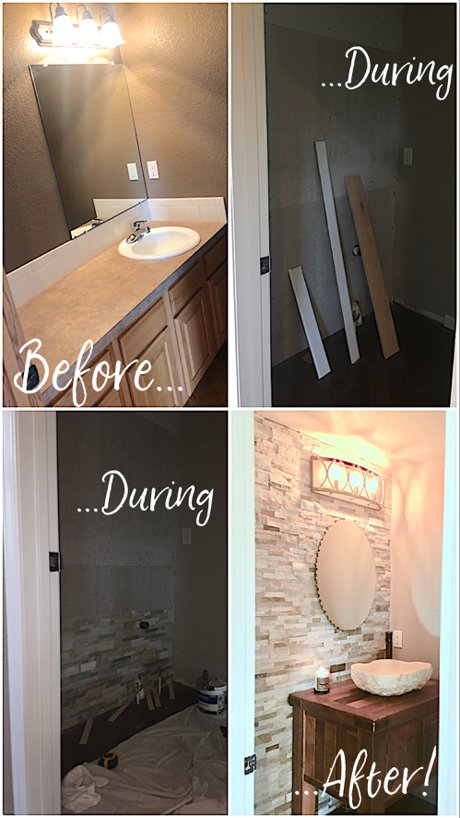 I have to give a shout out to Dan Kelley, handyman extraordinaire, who installed all of this for us- the stacked stone wall, vanity, sink, faucet, as well as a couple (dozen) more projects around our house. We couldn't have done this ourselves! If you're looking for a handyman in the Fort Collins area, he's your guy.
Since the day we moved into our home over two years ago, I have been looking forward to remodeling this powder room. From the golden oak floors, to the golden oak vanity with laminate countertop, to the white backsplash that didn't match anything, this half bathroom just didn't reflect our style whatsoever. On the main-level, this powder room is a space that our guests use when they come to our home and we wanted it to turn it into a thoughtfully designed space that reflects our personalities.
Cheers to a successful project and one less (huge) item on the to-do list!!